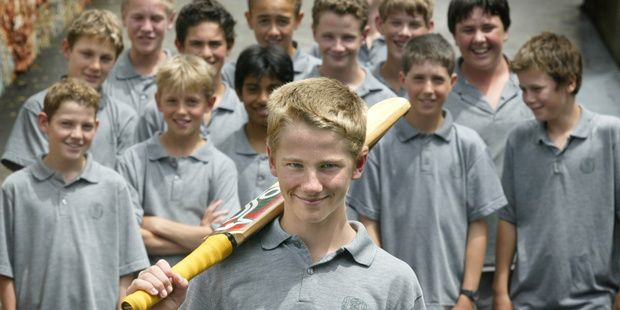 Batsman Kane Williamson is standing proud, his treasured Graham Thorpe bat slung over his shoulder.
He's just played a captain's knock and cricket is in good heart at the small Otumoetai Intermediate School.
In fact his 2013 team are proving to be giantkillers in the world of schoolboy cricket.
For two straight years they've dispatched the larger and favoured Tauranga Intermediate during the Milo National Primary Schools' Cricket Competition.
And now for the first time the Otumoetai first XI is off to the finals in Palmerston North.
Unbeknownst to Williamson he will take a leading role bringing his small Bay of Plenty team within a whisker of national glory.
The difference will be a dazzling batting display by Christchurch schoolboy - and future Black Cap teammate - Corey Anderson and four dropped catches.
Williamson, whose sublime career best unbeaten 145 helped New Zealand secure its first one-day series victory in South Africa last month, still vividly recalls the limited overs game that cost his team a tilt at the national title. "I remember very clearly our semifinal against Cobham Intermediate from Christchurch.
"We batted first and got 230 and I managed to get 100 and we had them on the ropes - 20 for four - and then Corey came out to bat and he smashed 90 off 60 balls.
"We had one guy in our team who unfortunately dropped him four times. He finished with cricket after that."
Williamson says despite losing the match it was a big deal for the school.
For two years in a row the Otumoetai boys had beaten local rivals Tauranga Intermediate who fielded the future Black Caps duo of Dougie Bracewell and Trent Boult.
And now the unlikely local champions had triumphed regionally to face the best year seven and eight schoolboy teams from around the country.
Ten years on and Williamson says this match is still a talking point in the Black Caps camp.
"Yeah we were talking about it not long ago with a couple of the Canterbury boys.
"Some of their guys recall the story that Corey got 100 but I'm adamant that he got 90 off 60 balls and he smashed it everywhere. It was ridiculous."
While captain Williamson went on to represent Northern Districts just four years after this photo was taken only a handful of his teammates still play at club level.
But he said there was a special bond forged on the dusty school sportsfield in pursuit of cricketing greatness - even when you're 12 years old.
"I'm friends with them all on Facebook and keep in touch with quite a few of them."