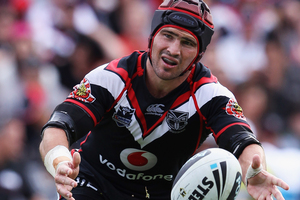 Warriors hooker Nathan Friend will have more shoulder surgery next month to repair nerve damage, forcing him to miss the start of the club's 2013 NRL campaign.
Club doctor John Mayhew said it was hoped the 152-game veteran would be ready to play in eight to 10 weeks leaving him in line to make his first appearance of the new campaign in April.
Friend had surgery in late August after dislocating his right shoulder in the 24th-round match against Penrith. He visited a specialist this morning (thur) to have the injury assessed.
"He'll have a nerve graft next month as a result of damage sustained when he was injured,'' he said.
Mayhew said it was a rare complication similar to what happened to former Warriors back rower Wairangi Koopu in 2006.
Friend made 17 appearances in his debut season with the Warriors, missing five games after breaking his jaw against Brisbane and then the final two matches of the year following his shoulder injury.
"It's frustrating but all I can do is to have the operation, repair the nerve and do all I can to be ready as soon possible,'' he said.
"I've been through disappointments due to injuries before. It was tough being out after breaking my jaw last year but you get over it, get on with your recovery and fight your way back. That's what I'll be doing again as well as supporting the boys throughout the trials and the start of the season.''
The Warriors start their trials programme in just nine days, facing the Gold Coast Titans at Pizzey Park, Burleigh Heads on Saturday, February 9.
They then meet Penrith in Hamilton on Saturday, February 16 and Brisbane in Dunedin on Saturday, February 23 before their first-round encounter with Parramatta at Parramatta Stadium on Saturday, March 9.
- APNZ