National championships first shot at getting on pathway to Commonwealth Games and then Olympics.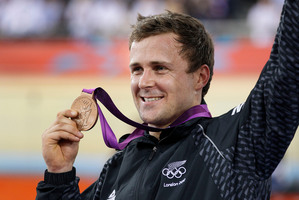 Decisions made this weekend could impact on the make-up of the New Zealand track cycling team that heads to the Rio Olympics.
The national track cycling championships, which begin in Invercargill tomorrow, represent new beginnings for some disciplines.
The men's sprint programme is now well established, but the men's and women's endurance programmes are in rebuilding phases.
The men's team will be without Jesse Sergent and Sam Bewley, who are focusing on their professional road careers, and individual pursuit world champion Alison Shanks is injured and taking a break before committing to Rio.
BikeNZ plan to take eight riders - a men's endurance group and men's sprint squad - to Europe this winter for a mix of road and track racing.
BikeNZ high-performance director Mark Elliott said the stakes at the national championships were high.
"This is the first step for some of them to get to put them on the pathway to the Commonwealth Games and, from there, it doesn't take much more to get to the Olympics."
Olympians Aaron Gate, Shane Archbold and Westley Gough will face challenges for a spot in the team from the likes of Myron Simpson, Michael Vink, Hamish Schreurs, Dylan Kennett, Pieter Bulling, Cameron Karwowski and Hayden McCormick.
There will be even stiffer competition in the sprints where Ethan Mitchell, Sam Webster, Eddie Dawkins, Simon van Velthooven and Matt Archibald battle for only three spots available for next month's world championships in Belarus.
New Zealand will send a small team of only five or six riders.
New rules from world governing body UCI mean nations must ride at all World Cup events to secure qualification for the world championships, causing financial angst for New Zealand and others.
BikeNZ were awarded $15.6 million over the next four years in the latest round of funding from High Performance Sport New Zealand, up from $15.3 million in the previous four-year cycle.APNZ
- APNZ