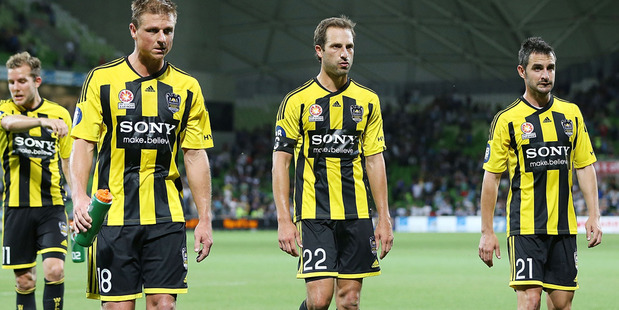 Wellington Phoenix captain Andrew Durante is sick of having to field questions about the latest musings of outspoken club co-owner Gareth Morgan.
After having his say on how the Phoenix should play last month, Morgan went on the offensive this week in a pre-recorded radio interview when he labelled the attitude of some of the club's fans as "pathetic''.
The comment sparked outrage and disgust on social media and the Yellow Fever forums and Durante attempted to distance himself from what Morgan said.
"To be honest, I've been through so much Gareth talk over the last month that I honestly have just completely blocked it out,'' Durante said at Phoenix training today.
"I've heard about the comments. I haven't read the comments myself and I'm actually in a pretty good place at the moment. I've been in a pretty tough place with all these comments and having to answer for owners so I'd rather not say much about that.
"But obviously the fans are hurting from it. It's never nice to have those comments at you but, as players, we've decided we are not going to get involved in that and talk about it. So the less said the better for the playing group.''
Only Durante and Phoenix coach Ricki Herbert were available to talk to media today, which is in stark contrast to other weeks when most players are available for a chat.
The club are in a tough position as they linger in last on the A-League ladder having lost their past four games, including a record-setting 7-1 defeat to Sydney FC last weekend.
Durante made an impassioned plea for fans to come out and support the Phoenix on Sunday when they host the Newcastle Jets at Westpac Stadium.
"If I can say my part to the fans, get out there and support the team. You'll see a much better performance from us and we don't want to let them down, especially in front of the home crowd. Regardless of what Gareth said, as players we want you guys out there and the Yellow Fever and everyone involved at the Cake Tin are very important to us and if we are going to get out of this we need everyone pulling in the same direction, fans included.''
Durante was then asked by a journalist: "So you rate the fans?''
Durante: "I love the fans. The fans are great, we are not much of a club without the fans.''
There may be at least one thing Morgan and Durante agree on though as the adopted Australian said he wasn't a fan of cats.
"I'm more of a dog person,'' Durante smiled.
New Phoenix recruit Isaka Cernak wasn't at training today but will be included in the match-day squad for Sunday and is even an outside chance to start the game.
- APNZ