Waikato's 9-1 loss even more embarrassing than Phoenix thrashing.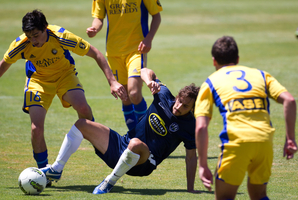 Waikato FC coach Mark Cossey left Porritt Stadium yesterday knowing full well how Ricki Herbert must have felt after the Wellington Phoenix slumped to a worst-ever 7-1 A-League loss in Sydney on Saturday night.
Less than 24 hours later, Cossey was left contemplating an even more embarrassing 9-1 loss to ASB Premiership leaders Waitakere United.
In equalling the league record they set over Canterbury United in 2007-08 and which was repeated last season by Canterbury United over YoungHeart Manawatu, Paul Marshall's Waitakere handed hapless Waikato their biggest loss - two goals worse than the 7-1 hiding, also by Waitakere, in 2005-06.
It could have been a lot worse. Waitakere scored six unanswered goals between the 10th and 27th minutes to lead 6-0 at the break. Debutante Sunny Singh needed just five minutes after his 55th-minute introduction to score his first goal but that was a temporary stay before the visitors scored three in the last 10 minutes as Allan Pearce and Roy Krishna completed hat-tricks.
The goalfest in Hamilton was not quite matched elsewhere but a total of 22 goals were scored, with Auckland City keeping their firm grip on second place in beating a spirited Otago United 3-1 in the only home team win of the round.
Hawkes Bay United won 5-1 over Manawatu and Team Wellington beat Canterbury 2-0 in Christchurch.
Rated 20 to one shots, Otago surprised many late in the first half when they clawed back from 2-0 to 2-1 before lively Frenchman Victor da Costa, who had provided the clinical assist for Regan Coldicott's opening goal, hit the crossbar with what could have been a 43rd minute equaliser.
City made certain there would be no Otago comeback when Adam Dickinson rolled home a third goal.
Otago coach Richard Murray, forced to put out a weakened side after he had two players sent off a week earlier in the 4-1 win over Manawatu, felt they might have been a bit gun-shy in the opening 25 minutes as City took control.
"We sat back too deep early on but once we started to press forward we found they were like any other team."
The warm conditions were testing for both teams.
Led by two goals from Sean Lovemore, who is joined at the top of the golden boot by Krishna, Hawkes Bay raced to 4-0 by the break and cruised home while Team Wellington had a goal in each half - from Wiremu Patrick and Luis Corrales - to get home at ASB Football Park and keep their play-off hopes alive.
ASB Premiership
Auckland City 3 Otago United 1
Waikato FC 1 Waitakere United 9
YoungHeart Manawatu 1 Hawkes Bay United 5
Canterbury United 0 Team Wellington 2.