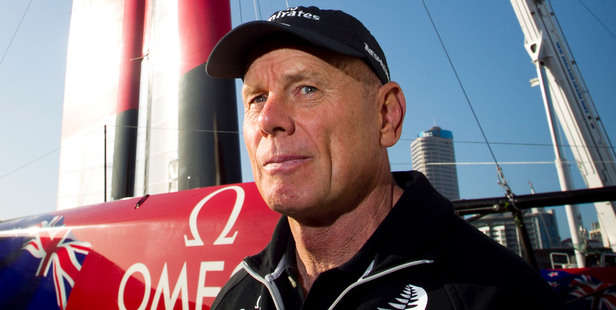 The 34th America's Cup in San Francisco will likely be Team New Zealand's last roll of the dice in the quest for the Auld Mug.
As Emirates Team New Zealand prepare to launch their second AC72, which they will race in San Francisco Bay later this year, managing director Grant Dalton confirmed their 2013 campaign will be "make or break" for the team.
The future of one of New Zealand sport's most enduring brands is therefore resting on their sleek new 72ft catamaran, NZL5, which will be launched early next month.
Dalton stopped short of saying Team New Zealand would close their doors if they fail to win the Cup, but admitted if they're unsuccessful in September it would likely spell the end of their America's Cup aspirations.
"My belief is that this will be make or break for the team," said Dalton.
"I think it's just the financial reality of the Cup now."
The America's Cup has always been an expensive business. But the budgets have grown exponentially with each edition, despite promises from successive defenders to limit the costs and make the event more accessible.
With the event this year moving to new hi-tech wingsailed catamarans, the cost of launching a credible campaign in San Francisco is estimated at $120 million.
Just three challengers, Artemis, Luna Rosa and Team New Zealand will compete in the 34th edition - Team New Zealand being the only one not backed by a billionaire.
They've had to scrape together their campaign budget from a range of multi-level sponsorship deals, with the New Zealand Government chipping in $37 million of that. But that public money comes with conditions.
For their investment, the government is expecting Dean Barker and his crew to return home in September with the silverware, and with it the myriad of financial benefits for New Zealand's marine, hospitality and tourism industries that would come with hosting the next event.
The cash injection from the Government was considered a one-time only deal, and without it, Team New Zealand recognise they won't survive in the current climate.
Right now though, Dalton isn't prepared to elaborate on the consequences of failure.
"Certainly at director level we are thinking win-lose scenarios, but my brain is not programmed past September - my life isn't programmed past September - so it's not something I personally give much thought to," he said.