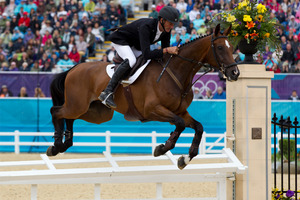 The 2013 New Zealand Horse of the Year show will have one of the sport's biggest stars as a special competitor and guest this year.
It has just been confirmed that the newly-knighted Sir Mark Todd will compete at the six-day March show and will be the special guest speaker at the Horse of the Year Hall of Fame Gala Dinner.
Todd last rode at the show in 2008 when short-listed for the New Zealand team for the Beijing Olympics. He and his grey NZB Gandalf won the eventing challenge, and aboard Tregonning he won the Battle of the Sports.
This time he will compete in the New Zealand Speed Championships, a showjumping title class on Sunday afternoon, just before the prestigious Olympic Cup.
"I haven't even ridden in a speed class for years," said Todd.
However, this double Olympic gold medallist who was a member of the Kiwi team to win bronze at the London Olympics, also rode for New Zealand in showjumping at two Olympic Games.
"I'm really looking forward to riding at the show," he said. "I competed in showjumping at the Horse of the Year for more years than I can remember."
The NZ Horse of the Year Show runs from March 12-17 and is held in Hastings.
- APNZ