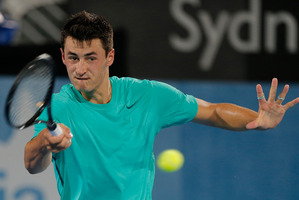 For the past eight years the rest of men's tennis has watched in a mixture of admiration and frustration as four players have dominated the major competitions. At the dawn of another Grand Slam season, however, the hopes of a new generation of players are rising at last.
With Roger Federer reaching his 32nd birthday this year and doubts growing over Rafael Nadal's future, the time is right for younger players such as Milos Raonic, Bernard Tomic and Grigor Dimitrov to make their move. While Novak Djokovic and Andy Murray may still be in their prime for several seasons to come, there is likely to be room at the top alongside the two 25-year-olds in the near future.
Nadal, who has not played since Wimbledon after a recurrence of his knee problems, is certain to be out of the top four by the end of the Australian Open. He will plummet further down the world rankings if he is not back and winning tournaments by the start of the clay court season.
Federer, meanwhile, may also struggle to keep his place in the top group, especially as his schedule for 2013 has indicated a shift in priorities. The world No2 will not play anywhere for seven weeks between Indian Wells in March and Madrid in April.
The stranglehold of the big four in the Masters Series - the next level of competition below the Grand Slam tournaments - could be over already. Between them Federer, Nadal, Djokovic and Murray had won 17 Masters titles in succession until David Ferrer ended the run in Paris two months ago.
The grip of three of the Fab Four on Grand Slam trophies has been even tighter. Following Marat Safin's victory in the Australian Open of 2005, only one of the subsequent 30 Grand Slam tournaments - the 2009 US Open, in which Juan Martin del Potro triumphed - was not won by Federer, Nadal or Djokovic. The 31st and most recent tournament in that sequence, last year's US Open, was won by Murray.
Statistics show today's players tend to peak later in their careers than they have in the past. However, it is also true that most Grand Slam champions win their first major titles in their early 20s. The chance of Grand Slam glory may already have passed by some of the recent mainstays in the world's top 10, such as 30-year-old Ferrer and even the 27-year-old Jo-Wilfried Tsonga and Tomas Berdych.
There are no teenagers in the world's top 100, but there are players in their early 20s for whom the future is looking bright. Next week's Australian Open, which is the Grand Slam tournament which has produced more than its share of surprise winners, could see the door open for them at last.
- Independent