From the mystery of why he may elect to own up now to details of his doping and any reparations he might make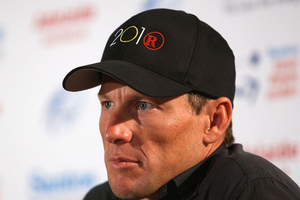 Should, as now seems likely, Lance Armstrong admit to being a serial cheat, it will top even Marion Jones's tortured and tearful confession on a US courthouse steps of doping. Quite simply, no sportsman will have revealed more.
According to the New York Times, the American is now weighing up the value of making a full confession - presumably with the precise details of the blood bags, the syringes of blood boosters, the testosterone and steroids that helped him become the Tour de France's most successful racer prior to his downfall.
However, the first question a lot of people are asking is why would Armstrong suddenly choose now to stop dodging the bullets. It is all a bit puzzling.
He allegedly has a desire to return to competitive sport, in triathlon and running.
To do so, he needs to have his lifetime ban removed. Collaborating with the authorities could see that ban reduced - perhaps to just four years.
But the advantages of confessing are surely far outweighed by the disadvantages. For example, he could lose at least two multimillion-dollar court cases, against an insurance company and a newspaper, which hinge on his systematic denial of doping. That seems a very high price to pay just to be able to get back into racing - where his results would be automatically questioned anyway.
It all becomes even odder when one recalls that Armstrong did not appeal against his lifetime ban from sport when it was imposed, or even attempt to face up to the US Anti-Doping Agency (Usada) accusations that he took drugs. As usual, he simply ignored them.
There is another explanation for Arsmstrong's apparent about-turn. This year, a seven-year statute of limitations will run out on testimony he gave, sworn under oath, that he had never doped. Once it has expired, he cannot be sued for perjury. But that still wouldn't let him off the other two court cases.
There is also the theory that his cancer-help charity Livestrong have applied pressure for him to draw a line under matters so as not to further damage their reputation.
If the reasons for a confession are unknown, its contents should be clear. Priority No 1 ?would be to ascertain if there was any complicity by the UCI, cycling's governing body, during his domination of the sport. An independent three-person panel has already been set up by the UCI to investigate whether there was, most notoriously over allegations of a covered-up positive test for EPO in the 2001 Tour de Suisse. The UCI already deny such allegations and say they could not have done any more. Armstrong could confirm or deny that.
Equally, the issue of how far the tentacles of Armstrong's doping practices extended, and how many of them survived the sporting demise of the brains of the project, remains an outstanding question. Twelve former team-mates have testified against Armstrong, and eight of them have now retired. The four still racing have been given token suspensions, but it is still not wholly clear who else is left out there who might have participated in Armstrong's doping rings.
The biggest question mark surrounds his former trainer Michele Ferrari. Italy's most notorious sports doctor has constantly denied doping Armstrong. Would a repentant Armstrong be willing to point the finger at the man to whom he apparently paid over $1 million (£620,000) for "training programs"?
Another key issue in any confession would be the extent of Armstrong's willingness to express regret for how he treated anybody who questioned his doping. From hounding critical riders Christophe Bassons and Filippo Simeoni to blacklisting unsympathetic media, Armstrong has a long and sordid history of attacking those who dared to voice their suspicions of him. As long-time critic Betsy Andreu, who once received an anonymous voicemail that someone would "break an baseball bat over her head", asks in the New York Daily News: "Will he compensate [Tour de France champion] Greg LeMond for ruining his bicycle business? Will he apologize to Emma [O'Reilly, Armstrong's former masseuse] for calling her a prostitute? Forgiving doesn't mean being a doormat."
It would also be hard for some to accept that a confession does not lead to some financial punishment. Rated as cycling's highest-ever earner - and the only one to make it into Forbes list of the 50 wealthiest-ever athletes - Armstrong's prize money from the Tour victories was divided between his team-mates. But that didn't stop him making around $20 million (£12.5m) in 2010 in sponsorship deals when he was in his twilight years. Given the damage his career did to the sport, does Armstrong not feel he should return his profits?
In many ways, though, rather than what Armstrong might have to say, the mere fact that he is prepared to say it is important. Rather than constantly raking over the past, it is surely time to put to the test cycling's claims that it has learned its lessons and that it is far cleaner than in the Armstrong years. And an Armstrong confession might provide the clean break that is needed for cycling move forward.