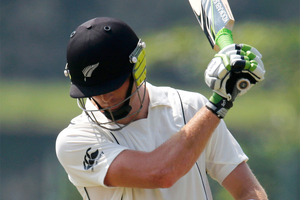 Martin Guptill's excitement about a shark diving excursion in the midst of New Zealand's poor performances in South Africa hasn't gone down too well with some cricket fans.
New Zealand opener Guptill, who contributed 0 and 1 in his team's embarrassing innings loss to the Proteas in Cape Town - two stints at the crease which added up to combined 11 minutes and 12 deliveries - tweeted today about his trip.
Guptill told his 28,000 followers: "Cage diving with great whites tomorrow. Should [be] an interesting experience!"
In reply Gavin Bennett, who lives in Auckland, said: "I think you guys should spend some time in the batting cages instead!"
Guptill appeared oblivious to the humour in Bennett's post when he responded: "We don't play baseball."
Another cricket supporter, Mike Ric-Hansen, who is listed as living in Durban, South Africa, went into bat for Bennett when posting: "i think u understand Gavins comments pretty well! #pair@Newlands."
In continuing a theme, Guptill was less than impressed at the inference he got a pair (two ducks) at the Newlands ground, tweeting in reply: "Who got a pair? Not me."
New Zealand coach Mike Hesson has said his batsmen need more intense workouts to cope with the speed and aggression of South African bowlers Dale Steyn, Vernon Philander and Morne Morkel, who took 16 of the 20 Black Caps wickets in the first test. However, it appears the Kiwis are being given ample opportunity for down time too.
The second test at Port Elizabeth starts on Friday.
- APNZ