Paralympic winner resumes training in a bid to retain his place at the top.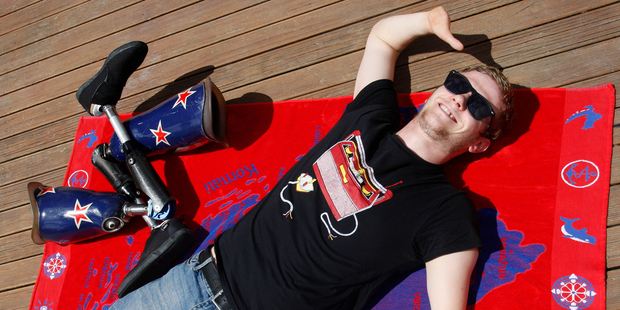 Cameron Leslie has put on 6kg in three months and he's loving it.
The 22-year-old, who has quadruple limb deficiency and is missing both legs below the knee, has not been in a pool since he won a second consecutive gold at the London Paralympics in September.
After victory in the men's 150m individual medley, Leslie spent six weeks jet-setting around Europe with some mates before returning to his home town of Whangarei to take up a job as a sports reporter at the Northern Advocate newspaper.
"It's been sobering coming back to New Zealand because I didn't come back with the team, I didn't get the big media hype like everyone else."
He said he had two weeks in New Zealand before starting full time at the newspaper - "I haven't been allowed to hang around on cloud nine or anything like that."
For the past few months he has been learning the ropes at his new job, catching up with friends and sneaking the odd McDonald's meal - something which will have to stop when training starts next month.
"I haven't trained since my race. That means I've put on some weight and I'm loving it. I lost seven kilos in the buildup to the Paralympics and now I've put it all back on," he said. "I don't feel guilty at all because a campaign like the Paralympics drains you physically and mentally and you need that time to get all your drive levels all back up there."
Before the Paralympics, Leslie was training three to four times a day, only missing only two sessions all year.
But the second-time Paralympic winner said it would be impossible trying to balance that kind of training working full-time, so instead he just wants to retain his winning record at the World Championships next August.
"It's achievable considering the distance which was between myself and second place in London. I guess that's the beauty with going in ranked number one and knowing there's 14 seconds between you and second place. Knowing that you can be smart with your training and not go in and kill yourself in week one.
You know your body knows how to go fast so you just have to work through the systems again and get the body in a sort of shape that it's not going to die on you."