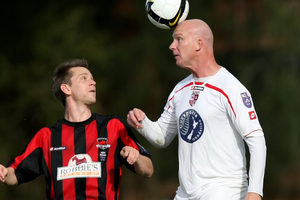 Seddon Fields, tucked in beside Jaggers Bush Reserve and home to the Western Springs Football Club, is worlds away from some of the biggest club grounds in England.
But Neil Emblen quickly shrugs off the obvious differences, adamant he is ready to throw his energies into the newest chapter in his footballing life.
For a player who has pulled on a shirt at some well-known clubs in the home of soccer, landing a job at a club who finished the 2012 season in fourth place in the Lotto Northern Regional League's second division squeezed between Mangere United and Waiuku is a huge step backwards. Or is it?
"Sure, it is going right back to the grassroots," admitted Emblen, "but I would not have taken the job if I thought I could not further my coaching career by being here.
"Instead of preparing a team like Waitakere to play at the highest level in New Zealand, I am now finding out about places like Matamata.
"The club made contact pretty much as soon as I got back from the Olympics and it has gone from there.
The facilities at the club are fantastic. The clubrooms are unbelievable and by the time the season starts we will have two and a half floodlit artificial pitches. The facilities will be the envy of a lot of clubs."
Once Emblen felt his time at Waitakere United was up - they subsequently appointed Paul Marshall - he was on the lookout as he wanted to stay closely involved with the sport he has lived and breathed since the early 1990s.
His first contact with the game in New Zealand came when he signed up for the Knights in the 2005-06 Hyundai A-League.
He then switched to a playing and then player-coach role at Waitakere United, taking them to ASB Premiership honours.
He later became part of Ricki Herbert's All Whites' coaching staff, which led to the appointment that gave him his Olympic involvement.
Emblen is under no illusions of what lies ahead but is determined to give it his best shot.
He has a firm resolve to give the huge number of youngsters at the central city club their chance.
"They have something like 118-120 junior teams but many of those players seem to be lost when they reach 13 or 14 years," he said. "We want to do all we can to make Western Springs the club they want to stay at.
"At this stage, I am contracted for 25 hours a week. I will have control of the first team but also the youth programme and I'm keen to give the younger players their chance to play senior football."
Emblen, who has been closely involved with under-17 and under-20 talent identification for New Zealand Football, is keen to continue his role with the All Whites.
He has spoken to NZF's high performance boss, Fred de Jong, who encouraged Emblen to take the Western Springs role.
"People will say I have taken a step backwards but I don't see it that way," he said. "I have no qualms. I always want to get the best out of players and help develop them. This job gives me that opportunity."

Neil Emblen
Born: June 19, 1971, Bromley, England
Clubs played for: Sittingbourne, Millwall, Wolverhampton Wanderers, Crystal Palace, Norwich City, Millwall, New Zealand Knights, Waitakere United, Waitakere City.
Coaching career: Waitakere United, NZ Under-23 (Olympic), All Whites (assistant coach), Western Springs (from 2013).