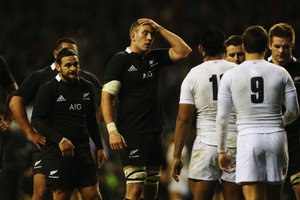 If the All Blacks' collapse against England revealed anything, it was that the line between success and failure in international rugby is fine - and the importance of mental preparation.
It was one of the reasons All Blacks coach Steve Hansen didn't appreciate the talk about his side, who up until last weekend were unbeaten for 20 tests, being the best ever. That can lead to complacency and short-cuts in preparation, both of which are anathema to any coach. But the question remains: were the All Blacks, regarded as the fittest side in international rugby, mentally all there at Twickenham?
The 14th and final test of a demanding year against an opponent with plenty to prove was always going to be difficult but the uncertain start and failure to kick on once fighting back to trail 15-14, and associated defensive disasters, was out of character.
Last year's World Cup meant the All Blacks didn't tour the north but, in 2010, they played 14 tests and comfortably accounted for England, Ireland, Scotland and Wales at the finish.
The difference this year was the shoehorning of three tests into the Super Rugby season, which meant it didn't finish until August 4. The toll it and other factors took on the All Blacks was plain to see last weekend.
"No excuses," Hansen said, when asked if the virus suffered by many of his players during the week was to blame. But something clearly wasn't right - whether physical, or mental. Centre Conrad Smith gave an insight into the team's thinking when talking about looking forward to a break.
While he was only truthfully answering a reporter's question, it might not have been the best policy, according to sports psychologist Gary Hermansson.
It was also significant that Smith, so consistent this year for the All Blacks, had a poor game by his standards. His defensive mix-up in the second half which gave up a try isn't something we have come to expect from him.
Hermansson, who has helped New Zealand athletes at four Olympic Games, said talking to the media about tiredness and the prospect of a break could have been self-perpetuating.
"Certainly acknowledge it within the unit but, with the media, once you put that information into the ether, it's gone; it's out there. Whereas if you say as a unit, 'okay, this is where we are vulnerable, so what are we going to do to help counter that?'
"You could imagine a situation where you say, 'look at 4.30pm on Saturday, this is when we stop our focus on being the best team around and the best athletes around. But until 4.30pm on Saturday, all of our attention must be around our performance.'
"You create a rather symbolic marker where you say this is the point where we have permission to shift our attention a bit. If you have some way of identifying that marker and containing your thinking within that space, then that's going to help counter that.
"Without it, you're at a risk subconsciously of leaking that intensity and once that starts, it flows out like [air from] a balloon and you're left feeling flat."
The All Blacks looked flat - much like their defeats at previous World Cups, which Hermansson also has a theory about. Like those losses, once England got a roll on, the All Blacks looked powerless.
"From a mental point of view, you have to accept it was going to be a hard ask for the All Blacks," he said. "It seems to me it didn't matter when the last game was going to be, they were always going to be vulnerable. You almost see the light at the end of the tunnel, you're exhausted, you've had a whole range of expectations to live up to, it was almost tantalisingly close - mentally - the opportunity to stop this treadmill."
Hermansson, 71, an author of several books, including Going Mental In Sport, said the All Blacks' past World Cup disappointments stemmed from fear of failure.
"We have always been vulnerable at World Cup knockout stages. You could say the Australia [semifinal] game last year was the only knockout World Cup match in which we have played with that same ability. For the rest of the time, we have just managed to hang on and we've had some spectacular problems.
"We get motivated more about the fear of failure rather than the desire to win. The next time the All Blacks play England, the motivation shift will be evident but the real question is how that translates into World Cup situations when we continue to be vulnerable in those knockout stages." APNZ