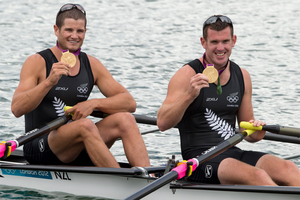 Master coach Dick Tonks' methods are being challenged at Rowing New Zealand headquarters.
Tonks has always adhered to the Arthur Lydiard endurance mantra of "miles make champions" but a younger brigade led by Calvin Ferguson are pushing a more strength-based strategy in the gym.
It is hardly a putsch. Tonks' place as architect of RNZ's current glory is undisputed.
He has mentored five Games gold medal crews since 2000, making him New Zealand's most successful Olympic coach across all sports.
As a selector, the 61-year-old has chosen other medallists. He has overseen 45 Olympic or world championship medals (23 gold, 8 silver and 14 bronze) since the 2004 Athens Games.
The conflicting strategies are more an indication RNZ is embracing fresh thinking on how to enhance the legacy of the current generation. Ferguson, a former lightweight sculler who trained against Rob Waddell in his pomp, is establishing his own record.
He coached Nathan Cohen and Joseph Sullivan to gold and Peter Taylor and Storm Uru to bronze at the London Olympics.
Tonks has always barracked for fitness over strength but Ferguson advocates a weights based programme, particularly early in the Olympic cycle.
"I want to build strength, power and explosiveness in my crews. The first year is about getting the fundamentals right through correct lifting techniques before balancing muscle groups to build strength and prevent long-term injuries.
"Nathan and Joe didn't have the length of levers [arms and legs] or the raw strength of bigger guys in their field so we had to maximise their capability. Joe's legs were not as strong as Nathan's but he had a much stronger upper body. They became more explosive through a weights programme which balanced those elements.
"As lightweights, Peter and Storm had to make sure they had the most power [from their maximum weight of 140kg] to apply to boat speed."
Cohen is with RNZ strength and conditioning coach Trent Lawton, while Sullivan is crosstraining alone on a bike and in a kayak. Both are expected to return to the elite ranks.
Taylor will change from sculling to sweep oar rowing in 2013; he is expected to trial for a lightweight four. Uru is taking a year off. Ferguson, who heads up the men's sculling arm of RNZ's high performance programme, is hopeful both will return for a crack in the lightweight double at the Rio Games.
Having worked with Tonks for years, Ferguson understands his modus operandi.
However, he says Tonks does most of his work with seasoned athletes like Hamish Bond, Eric Murray and Mahe Drysdale; expert technicians who have done plenty of strength work in the past.
"Some athletes simply don't have that same core strength and need to develop their bodies when they come into the programme," Ferguson says.
"It is relatively easy to identify weaknesses in the stroke and address those with a tailored weights programme.
"The biggest issue we deal with is core strength, where an athlete has a weaker lower back and stomach muscles.
"Over-reaching is another problem; i.e. slumping your back as you're reaching down. Better posture is needed and can be achieved through weights."
Olympic champion Eric Murray has experienced a weights-based programme when rowing with the coxless four and an endurance-based programme in the coxless pair under Tonks.
He often quotes Once Were Warriors' Jake the Muss in saying you need to avoid "too much weights, not enough speedwork".
Murray can see benefits to pushing tin in the gym but prefers time on the water.
"We cut out our weights after [winning the 2010 world championships at] Karapiro and did more intensive on-water training.
That is Dick's philosophy: if you want to be faster, you've got a better chance by being fitter rather than stronger.
"I agree rowers need to build their strength in younger years but you get to a point where it doesn't help during a race.
Ninety per cent of the time, fitness will get you a win rather than strength. It is one thing to bestrong at the start but eventually fatigue sets in. Fitness kicks in 240 strokes up a course.
"However, I think weights probably helped smaller guys like Nathan and Joseph because they didn't have long levers and needed explosive power in the last 500m. I can understandwhy they're advocates."