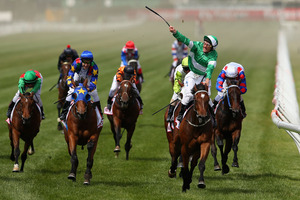 Brett Prebble spent about eight minutes on the back of Melbourne Cup winner Green Moon last Tuesday afternoon and earned A$360,000.
Damien Oliver rode Happy Trails to success in the main race at Flemington on Saturday and picked up A$60,000.
On most Saturdays in Melbourne or Sydney, the best jockeys will earn more than surgeons, more than the top lawyers and over a year they are capable of taking home about as much as the heads of banks.
They also perform one of the most dangerous occupations on earth, not all of them are good at it, many are too fat to get a lot of rides and their careers can be shortened by injury.
But on the risk-and-reward measure, they do all right.
Oliver, who on Tuesday was charged with breaches of the rules of racing that could cost him his licence to print money, has owned bars, businesses, he has an extensive property portfolio and more.
He is, however, one of the best.
Even a good average jockey is able to earn a decent living. In NSW and Victoria, they receive A$175 minimum for every ride they take. With seven-day-a-week racing, 15 or 20 rides a week isn't a difficult target.
And all will ride a winner one day and be eligible for 5 per cent of the prizemoney their horse wins.
An unwritten rule used to exist by which owners paid jockeys - and trainers - an extra 5 per cent.
Or there would be a nudge and a wink and a suggestion that the owner would have something on for the rider.
Since training costs have risen and economies have taken downward turns, the "extra five" hasn't been so readily offered. But some jockeys see it as their entitlement, particularly in the biggest races.
The rider of a recent Caulfield Cup winner, for instance, sent the lucky owners a bill for around A$80,000 on top of his 5 per cent.
Clearly there is big money to be made by good jockeys. But some simply can't help themselves.
Oliver bet with his own money, presumably, and there's no suggestion he rode his own horse suspiciously in the race on which he admits he bet $10,000 on the winner.
A lot of detail will come out at next week's inquiry into Oliver's bet.
But probably the only answer to the question of why a multimillionaire jockey wants to risk it all for a comparative pittance will be the simple one.
Because they can.
- AAP