Inside the world of the Mountain Warrior: Shane Cameron is building mental and physical fitness for his shot at the IBO world cruiserweight title on November 21.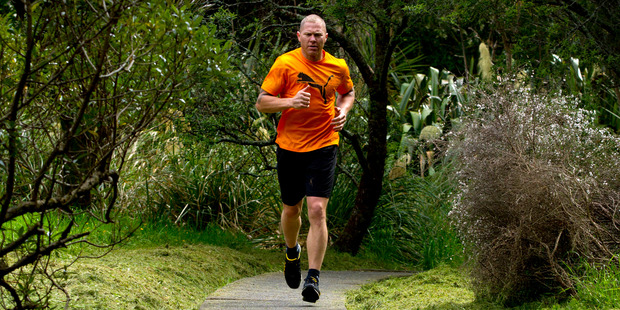 It's 2.30am and Shane Cameron lies in bed staring at the ceiling. Wednesday, November 8, is just getting started. In 13 days' time Cameron will partially realise a dream by fighting Danny Green for the IBO world cruiserweight title.
It's been 15 years since he discovered, as a 20-year-old in London, the potent mix of fear and elation that comes with stepping into the boxing ring.
His gaunt face bears the scars from the countless times it has been split open by a leather-clad fist or a burrowing forehead. His right hand is a twisted mess, the result of multiple breaks and reconstructive surgeries. His journey to this point has been one of triumph, pain, crushing disappointment and hope.
It will all have been worth it if he can beat Aussie battler Green in Melbourne on November 21.
"He can't beat me," Cameron thinks to himself as he lies in his bed. "There's no way he can beat me. I won't let him."
It's not that Cameron is enduring a sleepless night. His routine is geared to the fact he will step into the ring somewhere around midnight New Zealand time.
A little earlier, his training day finished with a shadow boxing session. A lone figure in the dead of the night, he rehearses the techniques he's been honing in preparation for Green. The shadow boxing comes at the end of his nightly run.
Five weeks into his pre-fight camp, Cameron's physical conditioning is almost complete. His mental preparation is coming along nicely too. Just as he has honed his body into a weapon, he's building a fortress inside his head.
"He can't beat me," he's still thinking as he drifts off to sleep.
Two days earlier Cameron and I talked on the phone to arrange for me to spend the whole day with him and gain some real insight into how he is preparing for the biggest fight of his life.
"Yeah cool, we'll start with a run in the morning and then we can go back to my place and talk about the nutrition," he says.
A couple of minutes later it dawns on me that he said "we". "We'll go for a run." Shit. I've caught glimpses of the promotional footage of Cameron flipping tyres and generally running around like a mad bugger to the point where he is almost sick.
It seems unlikely the gentle 40-minute bike ride that represents the sum total of the exercise I've done over the last month is going to prevent a near-death experience.
Besides, this is supposed to be an observational exercise, not one of those "I did two minutes in the ring with Shane and he punched me on the nose" pieces.
A concerned colleague has a solution: "The last thing you can do is expose yourself as the inept slug you really are. Take your bike."
Genius. The squeaking of the bike's tyre rubbing against the car window is a constant reminder of my cowardice as I grind along the gridlocked motorway towards Cameron's Mt Albert house. But I don't care. I'm saved. Only I'm not.
"Mate, it's just a little jog," Cameron reassures me after we exchange greetings. The bike stays in the car.
I needn't have worried. Cameron lets me set the pace - if it can be called that - and there's no need for the paramedics I'm hoping the photographer has placed on standby. He asks only twice whether I'm coping okay, something I regard as a minor triumph.
"That was a nice little amble," he says as we stretch back in his front yard. "I'll do it again later."
He's too polite to add "properly", but he doesn't need to.
Inside his breakfast awaits. In carefully measured portions sits half a cup of oats, 100g of pineapple and a scoop of protein powder - all 458 calories of it. It doesn't look like much, but Cameron mixes it together and chews away happily enough.
Next to a list of te reo translations - girlfriend Tara is fully fluent and he wants to be too - his meal planner is taped to the fridge. He'll eat six meals a day. Afternoon tea - 100g black pudding, 1 egg + 4 whites scrambled and a piece of Vogel's toast - looks to be the highlight.
With portions of lean chicken, vegetables and even a small protein bar and hot chocolate for supper, it all adds up to 2500 calories.
The rigid diet is working. His bodyweight is tapering down nicely from his natural 97kg towards the 90.7kg limit he must reach to fight at cruiserweight.
Crucially, he still feels strong. The first time he dropped weight like this it didn't go well. "I looked good but, shit, I didn't feel good."
He didn't fight good either, scratching out a listless 10-round victory over Daniel Ammann.
He used to drop weight by cutting carbohydrates out of his diet. This time, in consultation with a nutritionist, every meal includes crucial energy providing carbs.
Every now and then he craves an ice cream or a chocolate bar, but "I just say to myself, 'it's seven weeks. It's not a big price to pay. It's only food' ".
I want to know what he does with his down time. He can't train all the time; he can't indulge in life's guilty pleasures, so how does he fill in his hours?
We don't get far. Today he'll have some physio on his hand and some treatment on his sore neck. He'll undergo the weekly blood tests that monitor things like his iron levels. He'll do a couple of hours of ring work in the afternoon, then later he'll slip into his night-time routine.
"If I am at home, I am visualising what I want to do to Danny Green."
There's not much else. If he turns on the big-screen TV in the lounge, chances are it will be to review his sparring footage.
"People don't get to see what happens behind the scenes," he says.
"All they see is what happens on the night. They'd have more appreciation if they saw the hard grind we put in leading up to it."
Blending a monastic dietary and behavioural regime with intense bouts of violence seems a weird way to live.
"I don't know if it's strange - I love it. But I'll be back to normal once the fight is over."
Normal appears to be quite a full life. Cameron runs a gym he opened a year ago, he has a merchandising line and is looking to move into marketing supplements.
Put it this way, it would be a bigger upset than his KO of Monte Barrett if he were to be sucked into the downward spiral that claims many fighters when their effectiveness in the ring fades.
Life's pretty darn good right now, even if it didn't follow the path the country boy from Tiniroto thought it would.
Some 30km inland from Gisborne, Tiniroto is easy to describe: "There's nothing there, mate."
Well, maybe some sheep. Growing up, Cameron's dream was to be a farmer. Later that melded into a desire to be the best shepherd in the world. He left school at 15 to take a job on a local farm. He had a team of dogs he trained every night after work, before bunking down in the shearers' quarters.
"There was nothing else to do," he shrugs.
The death of two of his precious dogs after eating rat poison provoked a change in direction. Cameron took it hard - and took off to London. He pitched up at Heathrow wearing jeans, Jandals and a fleecy jersey hand-knitted from New Zealand wool.
"I didn't know anything about fashion - I had half a sheep on my back. Now look, I'm living in Auckland, a city slicker."
It was in London, at the age of 20, spurred on by the deeds of his boxer grandfather in the 1930s, that he fell into the sport that would become his profession.
He took his first fight after just a couple of months training.
"I was really, really nervous. I was like 'what the hell am I doing this for?"'
He won with a second-round KO. The bug bit deep. "The rush when you win - I'd never experienced anything like that. I've see-sawed that for a long time now."
Two nights before we meet, Cameron endured the most brutal sparring session of the campaign - 12 rounds against three fighters who rotated in and out, always coming at him fresh. It's taken a toll. He is supposed to spar again tonight, but the session has been pushed back to give him more recovery time.
Instead we head to the gym to review the sparring footage from the previous session, before Cameron puts in a "light" 70-minute ring-work session with coach Henry Schuster.
This time I'm glad it's "we".
The sit-in on the sparring footage that takes place in a tiny office next to the ring where Cameron goes about his business is revealing.
Stripped of the TV cameras, media throng, promo girls and obligatory refreshments, the sparring session is an earthy, edgy affair. The home-movie quality of the footage adds to the sense of truly seeing the inner sanctum.
I'm surprised Cameron fights with his shirt off. It's only training, but then I see why. Cameron really is fighting. It's brutal.
Hard-hitting cruiserweight David Aloua, lightning fast middleweight prospect Daniel McKinnon and a fighter who looks like he sits somewhere between the two, Sam Rapira, take turns belting Cameron with everything they've got.
He handles the early rounds well, but by the middle the relentless pressure from fighters who are coming into each round rested is taking its toll. McKinnon's speed, in particular, makes Cameron look like he's struggling.
"Danny Green is never going to move that much," says Ken Reinsfield, Cameron's manager and good mate. "If he does he'll be f***ed by 12 rounds."
Then, to me, Reinsfield warns: "Don't give away any secrets - you're privileged to be in here."
He's right. Reinsfield's a good bloke but there's an edge to the former Olympic wrestler, so here's hoping the fact that Cameron is training against smaller, more mobile opponents isn't a state secret. Nor, hopefully, is the fact that he is super fit. He finishes the last two rounds strong, calling on his deepest reserves.
Cameron never takes his eyes off the footage. Not once. Schuster, the fourth person in the increasingly stuffy room, twice mumbles something inaudible, but is otherwise silent. The reason becomes clear when he asks me to leave before sharing his thoughts with Cameron.
Outside, McKinnon reveals that when he sparred with Cameron in the build-up to the Barrett fight he suffered a broken jaw. It's one thing to dance around a bigger man and make him look a little ponderous but, "when he hits you - f***".
After an extensive warm-up and stretch, Cameron enters the ring and works the pads with Schuster. Reinsfield and I talk shop. He's still seething at a recent description of Joseph Parker as this country's best heavyweight prospect since David Tua. "That's an insult to Shane."
The suggestion that Cameron is no longer a prospect but a contender and that he is also now a cruiserweight does nothing to placate Reinsfield. He, and Schuster for that matter, have been at Cameron's side for over a decade now.
"Love him or hate him, he's very good to me," says Cameron of his mentor. "He's got my best interests at heart."
There's no doubting Reinsfield has guided Cameron's career effectively. While the Tua fight didn't work out in the ring, Cameron received a $500,000 payday - unheard of for a Kiwi fighting in his own country.
Cameron has a nice house in Mt Albert; Tua is reportedly still in a financial hole.
Three years after Tua crushed him in spectacular fashion, the decision to switch Cameron to cruiserweight could be about to hit paydirt. The Green fight should do well at the box office and, if Cameron wins, more big paydays lie ahead. By comparison, Tua has drifted listlessly into irrelevance.
Tua's demise frustrates Cameron. With Cameron ranked inside the top 10 at the time, a win put either fighter in good shape for a heavyweight title tilt. "He worked so hard to beat me and he did nothing with it," laments Cameron.
Watching Tua squander such a golden opportunity while having to work tirelessly to rebuild his credibility was tough - the defeat haunted him.
He knew he was a better fighter than he showed that night in Hamilton. Like many before him, he got caught with a big punch from one of the biggest punchers the sport has seen.
The effect was catastrophic. He'd been hit hard before, but not like that. His brain shut down. He doesn't remember the bell for the first round, or heading out for the second. He never recovered from that first devastating blow.
Outside the ring, the recovery was slow. The swollen face he sported the day after the fight disappeared quick enough, but the internal wounds remained.
It wasn't until July this year, when he KO'd Tua's nemesis Barrett in Auckland, that the monkey finally decamped.
As he climbed the ropes to celebrate landing a crushing, no-doubt right hand to Barrett's jaw seconds into the fourth round, three years of frustration poured out of him. He hadn't slain the demon, but he had done the next best thing - destroyed the man Tua couldn't beat.
Having his entire career judged so harshly for one split-second failing had been eating him up.
"It had been haunting me for that long," he admitted.
He never doubted he would beat Barrett. When Reinsfield phoned him straight after Barrett's victory over Tua in August 2011 and asked if he wanted the fight, his answer had been: "Hell yeah, get it on."
That meant getting back up to heavyweight, and now it means getting back down to cruiser to fight Green. To most of us, that would mean seven weeks of living hell. To Cameron, it's a minor sacrifice on the way to achieving his dream.
"The Barrett fight was my easiest fight and I'm just as confident I'll beat Green. He talks like he is going to cut me up and dissect me in the ring. That ain't gonna happen. I was lying in bed last night just thinking - 'there is no way you are going to beat me'.
"But I know deep down he's just like me. He's thinking the exact same thing."
The stats
Shane Aaron Cameron
Age: 35
Birth place: Gisborne
Division: heavy/cruiserweight
Stance: orthodox
Height: 188cm
Reach: 187cm
Alias: Mountain Warrior
Record: Won 29 (KO 22) Lost 2 (KO 2)
Rounds boxed: 178
KO per cent: 70.97
Titles: WBO Asia Pacific heavyweight, WBO Oriental heavyweight, Commonwealth (British Empire) cruiserweight
The Cameron menu
Calories in brackets
Breakfast
1/2 cup oats
100g pineapple
1 scoop protein powder (458)
Morning tea
2 scoops protein powder
2 Vogel's toast
Tbsp peanut butter (515)
Lunch
150g cooked chicken
150g kumara
100g vegetables
Tbsp hummus (395)
Afternoon tea
100g cooked black pudding
1 egg + 4 whites, scrambled
1 Vogel's toast (350)
Dinner
200g cooked chicken
50g kumara
100g vegetables
Tbsp hummus (415)
Supper
Small protein bar
Jarrah hot choc
or eggs and toast
or make up calories