As the San Francisco Giants and Detroit Tigers fought for supremacy in the World Series, a bunch of Kiwis were flexing their baseball muscles in less salubrious Auckland surrounds. This is the story of the Diamond Blacks.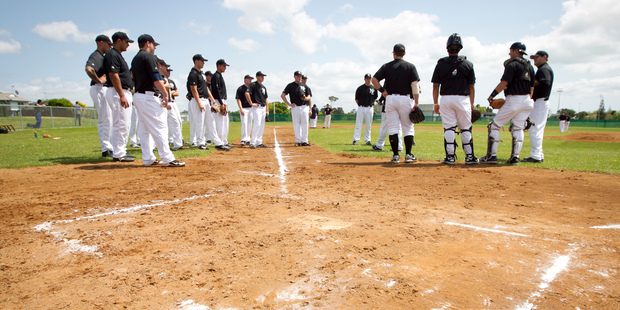 "Come on, take control," says Scott Campbell to a trainer as the New Zealand baseball team trot out of the dugout and on to the field at East Auckland's Lloyd Elsmore Park.
"You're gonna have to speak up. You want me to do it?" offers Campbell, the team's senior pro who, but for a degenerative hip condition, would likely have become this country's first Major Leaguer.
The 31-strong squad eventually lines up and sets off on a jog. The Diamond Blacks' first training session is under way. It's not just the first session of the week, or the year. It's the first, period.
The journey that began in Pakuranga last Friday will shortly head through Sydney and Canberra before marching on to Taipei City for the World Baseball Classic qualifiers. It's a Cinderella story and for the first time New Zealand has a ticket to the ball.
Having been drawn together from various points of the baseball globe, the group is finding its feet; the hesitancy on display is understandable. The players, coaches, trainers and back-up staff are still learning each other's names. There are no established routines to fall back on. Every step taken is quite literally a first.
As manager Andy Skeels - the steely-eyed Wellington-born coach from the San Francisco Giants' organisation - stressed at their first meeting, this team is laying down the footprints for future generations to follow.
As the conglomeration of Kiwis from the ranks of local, collegiate and lower level professional baseball fall into familiar drills the early awkwardness disappears. The level of chatter picks up, but there's clearly still a few nerves. Daniel Devonshire, the 20-year-old Aucklander who was drafted by the Toronto Blue Jays this year, fumbles his first two attempts at fielding ground balls.
Devonshire is expected to be one of the stars of the team, so it's an ominous sign. By the time he steps into the batting cage the stocky slugger has clearly settled down. He lays down a couple of bunts, then slaps a couple of ground balls. The first time he swings in anger, the offering from pitching coach Steve Kline sails out of the ground, landing a good 20m beyond the wall at right-centre field. Devonshire doesn't get all of the next pitch, but it still clears the fence comfortably. The next whistles over the right field wall. Three swings, three homers. It's that power that prompted the Blue Jays to sign Devonshire after watching him play just one game.
Boss Moanaroa, the 21-year-old Australian-born first baseman who plays for a Boston Red Sox minor league team, takes his turn in the cage and produces a couple of equally impressive blasts.
"I saw some guys swinging the bat pretty well today," says Skeels. "I got good reports from my pitching coach about some of the guys who did their bullpen sessions, and we actually went through our fundamentals fairly well. So I was encouraged by that. It looks like these guys at least have a general idea of what we are trying to do. But they are all very young, all very inexperienced."
Newborns, pretty much.
While it's tempting to ascribe the birth to last Friday, the reality is the Diamond Blacks came out of the womb about 18 months ago, when an entry form for the WBC qualifiers found its way to Baseball New Zealand chief executive Ryan Flynn's desk. "We can do this," was Flynn's initial reaction. When he received confirmation that New Zealand was among the 16 nations selected to compete for the final four places at what is effectively baseball's world cup, that reaction changed to: "What the f*** have I done?"
As the players go through their paces on the field, Flynn does his pacing behind the wire fence at home plate, working his cellphone. He's co-ordinating transport, arranging accommodation, chasing up delivery of equipment and, most pressingly, trying desperately to shore up the gaps in the team's budget.
He's just been on the phone with businessman and Breakers backer Dennis Jones begging for $10,000. The initial budget for the WBC campaign was $220,000 (a stretch for an organisation with an annual income of little more than that), and operating sports teams is a bit like building Olympic Villages when it comes to budgeting. Flynn has already deferred his salary bonus so the money can be used on the campaign.
"Everything in this country is so expensive," rails the New Yorker. "Everything. See that batting cage there? $10,000 - for some metal poles and netting!"
The 41-year-old seems to have aged since I first met him six months ago. Certainly he's dog tired. A one-man band (two since Campbell recently signed on as Baseball NZ's second employee) who works from home and "every cafe you've ever been to in New Zealand", he brings an evangelical zeal to his baseball mission. Given his distaste for America's religious right - "Obama's my guy" - he'll likely wince at that description, however.
"The rise of baseball will be one of sport's best stories in New Zealand over the next decade," Flynn says, quoting consecutive 300 per cent annual rises in player numbers, which have swelled to 6000.
"We've barely scratched the surface. The whole country can swing a bat, the whole country can throw a ball. There are diamonds here, there are umpires here. There's coaches already here. It's a sporting country. It's like the stars are aligning for baseball to explode here more than any other nation in the world.
"Major League Baseball believes that we are coming. They believe there is a ready-made population who are already baseball people."
Except they're predominantly softball people, and some seem to view embracing baseball as akin to turkeys voting for Christmas.
Later we will look at the relationship between the two diamond sports, suffice to say for now that softball hasn't gone out of its way to aid baseball's WBC bid.
Flynn would probably sell a kidney for Softball NZ's $2 million annual budget, not to mention the hefty chunks of change various funding bodies have thrown at the hosting of next year's Softball World Championships on the North Shore.
Instead, he has had to make do with a $100,000 grant from the Lion Foundation plus whatever he can beg, borrow and fund-raise to plug the gaps. Sponsors have given accommodation and transport, but cash has been harder to come by.
"It is the chicken and egg, horse and cart," Flynn says. "A lot of key people see the potential but they do want to see a track record, which is understandable. So we have to out-work every one. It's very much a shoestring budget. We'd put AIG on everybody's heads if we could.
"With a real sponsor or somebody behind us, with a few more coaches and a little bit more infrastructure, there is no limit to how great and how big baseball could be in the country."
Flynn's deck isn't entirely ace-free. Baseball has some well-connected friends. John Key's son Max plays and the Prime Minister spoke at a recent fundraiser. A high-powered board includes Sky TV chief John Fellet, PwC chairman Jonathan Freeman and Mitre 10 CEO John Hartmann.
Then there is the backing of Major League Baseball, one of global sport's biggest and most cashed-up players.
"I would say it's exciting times for New Zealand, they've got some great momentum," says MLB's director of Australia and Oceania Tom Nicholson.
An American who has lived Down Under for more than 30 years, Nicholson has helped oversee Australia's emergence as a genuine baseball power. A shock Olympic silver medallist in 2004, Australia has produced 31 Major Leaguers and has re-established its once defunct professional league.
Having established a foothold for baseball in a cricket-mad country, Australia is used a proving ground for MLB programmes that are exported globally.
"Australia has been a laboratory for us," Nicholson says. "We have developed a business model and a development model that has demonstrated tremendous success."
The MLB training academy on the Gold Coast - often the first stop for aspiring young pros from these parts - has been replicated in Italy, China and even inner-city America.
Graduates from that academy who crack the big time are encouraged to return to Australia during the American off-season to support the Australian Baseball League, helping to boost the profile of the game and unearth the next wave of inductees.
"Down the track we'd love to entertain having New Zealand working on that development pathway," Nicholson says.
While an academy would be nice, Baseball NZ would settle for a home. The establishment of a national facility for hosting matches, training and housing administration offices is a key goal.
The game here is being developed via a three-pronged strategy - generate exposure through events such as the WBC, establish a consistent presence through a team in the ABL, and develop a baseball-specific facility. If those three strands can be successfully woven together the sport can move from the fringe into the main stream.
"You never take your eye off the tee-ball and the grassroots but the top down is the sexy stuff - it attracts people to the opportunities that the game offers - and there are so many in the game of baseball," says Flynn. "It's a $9 billion a year industry and we can take our share of that."
So Flynn and Baseball NZ have taken the plunge. They've stitched together a team of Kiwi baseballers and baseballers with Kiwi ties and have set them on the path towards an impossible dream. No one is prepared to say it can't be done but, with eighth-ranked Taiwan standing in their way, qualification for the WBC would be a massive upset. More than anything, the Diamond Blacks need to establish credibility.
Work ethic and dedication to the fundamentals are prized in baseball just as much as the ability to whack a ball over a fence. When global baseball eyes fall upon it, our fledgling baseball team will be judged not just on what it does, but how it does it.
"I am very mindful of the fact that forever [we] are going to be the first to have done this," Skeels says.
"The expectations, the standards and the way we go about our business will reflect how everybody else sees us.
"We are realistic about where we are as a country and the depth of our talent, but you have to be hopeful and you have to be optimistic. I've seen enough players here where, if that seed keeps growing, it could turn into something really good."

Pay TV, gambling open Kiwi eyes to a glitzy world
While baseball has been dabbled with in New Zealand for at least 80 years, it's the convergence of pay television and gambling that has helped the game finally establish a foothold.
Sky TV is now a fixture in 49 per cent of Kiwi homes, with its regular baseball programming exposing a good chunk of the population to the glitzy, big-money world of Major League Baseball.
At the same time, Kiwis' fondness for gambling has created a revenue stream for the game's administration.
Of Baseball NZ's annual budget of around $200,000, about $190,000 comes from the percentage of turnover and profit the TAB kicks back to the sport from baseball wagers.
Most of that money is pumped into spreading the gospel at grassroots level - bats, balls and junior coaching - while the television exposure has demystified a game once viewed by many as an American eccentricity.
Sky TV chief John Fellet, an American baseball enthusiast who has lived in New Zealand for 21 years, recalls being shocked at the way the game was initially presented to Kiwi viewers.
Watching his first MLB game on Sky, he was taken aback when the coverage jumped from the third to the eighth inning.
The next day he asked his production staff if the feed had dropped out, but was told the middle innings had been scrapped because there were no hits and "New Zealanders won't watch a game without hits".
"They said, 'Geez, there was this one team the other week that couldn't even get a hit so we didn't even show that game'.
"I said, 'Guys, that's a no hitter. That's like seeing a great astronomical event - you can't do that'."
While it is still a second-tier sport in terms of viewing numbers, baseball now out-rates American football, with the audience peaking during the World Series.
Fellet believes interest in the sport will pick up even further when a New Zealander finally cracks the Major Leagues.
Sky would likely target its coverage around that players' team, and is also interested in broadcasting games if a New Zealand team is established in the Australian Baseball League.

Q&A: World Baseball Classic
Q: What is the WBC?
Described by Baseball NZ chief Ryan Flynn as "the biggest sporting event New Zealand is in in 2012 that nobody yet knows about", the WBC is effectively baseball's world cup.
What's the difference between the World Baseball Classic and the World Series?
The World Series is the contest between Major League Baseball's two best clubs. The Classic is an international competition between countries. With baseball booted out of the Olympics and the Baseball World Cup now defunct, the WBC is the sport's premier international event. Like most world cups it now occurs every four years.
So who is in it?
The main tournament, which takes place in March, involves 16 nations. Twelve of those - Japan, China, Cuba, South Korea, Netherlands, Australia, Venezuela, Puerto Rico, Dominican Republic, Italy, USA, Mexico - are there automatically based on results from the last tournament. The final four countries will be determined at qualifying tournaments.
And that's what New Zealand is in?
Yes. The first two qualifying tournaments have been held, with Spain and Canada winning through. New Zealand is in the final tournament, in Taipei City from November 15-18, up against the Philippines, Thailand and hosts Chinese Taipei. If we get through that we progress to pool play. Elimination tournaments will be held in Japan, the US, Taiwan and Puerto Rico. The final series is scheduled for San Francisco's AT&T Park from March 17-19.
What are our chances?
Slim. New Zealand is the only unranked nation in the qualifying draw and this is the first time our national team, the Diamond Blacks, has come together. They will be up against teams consisting mainly of professionals, including some Major Leaguers.
How do our opponents rank?
Ranked eighth in the world, hosts Chinese Taipei are the big guns of the group. Their squad has 28 players linked to Major League clubs and two current big leaguers - pitchers Wei-Yen Chen (Baltimore) and Chien Ming Wang - who aren't expected to feature.
So we're going to get thrashed?
Not necessarily. In baseball anything can happen if a team has a good pitcher and the Kiwis have some reasonable arms. Pitching depth could be a problem but we'll rate our chances against Thailand (23) and the Philippines (31), who are much more experienced but have few players drawn from America's professional ranks.
So can we watch it?
Yes. All the Diamond Blacks' matches will be televised on Sky. Game times haven't been confirmed, but Taiwan is five hours behind us so evening games there will begin in the middle of the day here.
Are there any superstars to look out for?
Word is that Johnny Damon, who has a Thai mother, is going to play for Thailand. Damon, 38, was one of the biggest stars of the game during his time with the Red Sox and Yankees.
Okay, who are the guys to look out for on our team?
Daniel Devonshire (Blue Jays), Boss Moanaroa (Red Sox) and Te Wera Bishop (Red Sox) are good enough to have caught the eye of Major League clubs over the past 18 months, although none are yet close to reaching the big time. Scott Campbell is New Zealand's most experienced player. Six-foot seven inch pitcher John Holdzkom's fastball has been clocked at 162km/h. Local product Andrew Marck is a pitcher who plays for Brisbane in Australia's pro league.