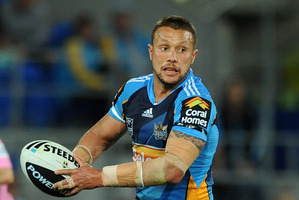 The shock disclosure that Titans skipper Scott Prince has set up a surprise move to Hull in the UK Super League shows the dangers of trying to sign big-name players.
The Titans earlier this year made a big-money swoop for Melbourne Storm and Kangaroos halfback Cooper Cronk, prompting speculation captain Prince would be forced out of the club.
Prince was apparently caught by surprise, though subsequent rumours linked the 32-year-old to a move to the North Queensland Cowboys.
Now it seems Prince has made his own secret moves - blindsiding the Titans with a three-year move to Hull FC, a departure which could leave the Titans without an established halfback for next season.
The Titans would have to forgive Prince the year he has left on his contract - and an option for 2014 - if the club's skipper is to sign with Hull.
Their ability to capture a marquee half has also taken a hit. They have recruited Dave Taylor, Nate Myles and Jamal Idris and it is believed they no longer have the funds available for a quality halfback - at least not without falling foul of the salary cap.
Johnathan Thurston and Mitchell Pearce are both off contract but Thurston's price tag - estimated to be A$1 million - is likely to be too rich for the Titans. Prince's late departure also leaves the Titans in a difficult position to secure a marquee or experienced halfback for next season.
Canberra's Josh McCrone or Sam Williams might be the best bets.
They led the Raiders on a late surge last season but one will have to step down when inspirational skipper Terry Campese returns next year.
Newcomer Aidan Sezer will be the Titans' most experienced halves player on next year's roster, with only 18 NRL games behind him.
Prince has yet to sign but there are signs that the Titans will not stand in his way.
Titans chief executive boss David May said he hoped his captain would stay and would not say if the club would grant him a release if Prince wanted to go.
"It's Scott's decision. He's a foundation player and captain of the club. He's been instrumental in creating the Titans brand. He came to the club and made us what we are," May said.

-Agencies