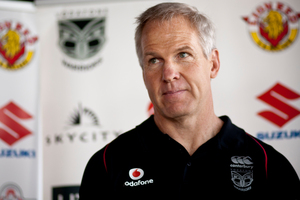 Forward only direction for Warriors coach who'll cut style to suit players
Depth will be added to the outside backs in the "very near future", the best young Warriors will spend more time in the Vulcans before hitting the NRL, and the club will adopt a style that exploits the squad's mobility and skill.
Those are the thoughts of new Warriors coach Matt Elliott after a hectic first week in the job.
Elliott returned to Australia on Thursday to tidy up his affairs. By the time he's back in New Zealand for good late next week, he expects he will have his assistant coaches in place and will have added to a squad light on depth and experience at centre and wing.
Former Newcastle and Wigan centre George Carmont has been approached. At 34, Carmont would be a stopgap measure, and it's unlikely he is the club's primary target.
While clearly not the first choice of a fan base that pined for a supercoach such as Craig Bellamy, or of a playing group that supported the claims of assistant Tony Iro, Elliott said he had encountered little negativity.
"I can only give you my perception of it and it has been pretty smooth," he said. "How I arrived here is in the past - it's what I do. I understand that people like to reflect on that stuff but for me there is so much to be done in a short period of time. Look, I've forgotten about it already."
While he had been impressed with the passion surrounding the club, he understood it was a two-way street and the atmosphere among the fans could turn toxic pretty fast when things go badly.
"I did coach in the UK for five years and they invented that sort of stuff. I was pretty lucky I had a successful period there. But I like to look at things from the positive. That's just a pure sign of how much it matters, how much they care. I don't think that's confined to New Zealand."
The major criticism of Elliott's teams appears to be the over-emphasis on the importance of power. Having coached Bradford and Penrith, teams stacked with hulking behemoths, he understands the basis of that view.
"I guess it is fair, but what I do is develop a style around the players that I've got," he said. "I don't think you could say we developed a style around power in Canberra because we didn't have a lot of powerful players. We developed a style around quick play-the-balls and short interchange of passing. When I went to Penrith it was the land of the giants.
"I can see people saying that [in Bradford] as well, but at that time in that competition the best people I could find to recruit were big dudes."
Marrying the right style to the players at his disposal isn't something he has always got right. Like all coaches he has made mistakes. Unlike his predecessor, Brian McClennan, Elliott at least has another chance to learn from them.
His early impression of the Warriors squad is that the typical Australian view of a team stacked with massive, physical brutes is a myth. The names don't yet run freely off his tongue, but he cites the likes of Elijah Taylor, Jacob Lillyman, Ben Matulino and Todd Lowrie as evidence the Warriors are actually more tuned towards athleticism and skill than size.
"There has always been this perception that the Warriors are big and powerful. But when I look at that closely, that's just a label people put on the Warriors that has been around so long, but I don't actually see it that way.
"There are guys who are highly skilled both before the line in attack and in the line in attack, guys who can promote the ball. We've got to come up with a style of play that gets the best out of that."
As for last year's failings, he believes an injury toll that wiped out the majority of the team's leadership group was the most significant factor. The less experienced players who plugged the gaps had struggled with the demands of the NRL and the key to improvement was making sure the young players coming through were fully hardened by the time they took the field in a first grade match.
To achieve that, players who showed promise at U20s level would be diverted to the Vulcans earlier and for longer before making the step up to the NRL.
"The challenge for us is to get them ready. The term 'whole of club' is being used and I'm committed to that. During the [recruitment] process, that's what I really pushed.
"Our young players coming through will certainly be exposed to the extreme rigours of preparation, but also they will be playing in the Vulcans."