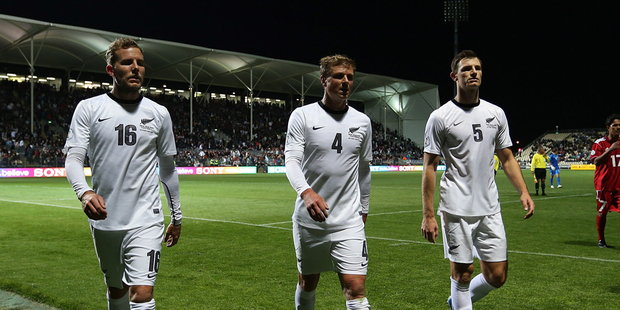 If the All Whites are to progress to the 2014 World Cup in Brazil, they must approach their next three games with a great deal of caution.
Following last night's scrappy but ultimately comfortable 3-0 win over Tahiti, nine of Ricki Herbert's squad now sit on yellow cards, and are each one mistimed challenge away from missing a potential World Cup playoff game next November.
The All Whites have two matches before then, and a win against New Caledonia on New Zealand soil on March 22 in Wellington would confirm their passage.
But what will trouble Herbert is the yellow card dilemma. With so much talent balanced on a knife-edge of suspension, is it ever right to actively seek a booking?
Herbert's first concern will be winning the match and securing the group, but should the All Whites be cruising to a win over New Caledonia, it would be sensible to think of the bigger picture.
Winston Reid, Tony Lochead, Tommy Smith, Michael McGlinchey, Shane Smeltz, Chris Killen, Ivan Vicelich, Jeremy Brockie and Chris Wood are arguably (with the inclusion of Nelsen) our best players, but they have also all been booked.
If any of the above picked up a second yellow in the first leg of the World Cup playoff match against the fourth placed qualifier of CONCACAF, it could be catastrophic, they would be suspended for the return leg - but a booking against New Caledonia could be a blessing.
In the latter scenario the players would miss the final group match against the Solomon Islands, but then have the slate wiped clean for 'the big one'.
However the act of seeking a caution is fraught with danger, especially with the unpredictable standard of refereeing displayed so far in qualifying matches.
Uefa's chief refereeing officer Pierluigi Collina has made it clear that players caught deliberately picking up a booking in order to receive a suspension will receive a two-match ban. Whether the officials will be able to decipher a 'legitimate yellow' from a 'fake yellow' is another matter.
The Solomon Island official Gerald Oiaka was so far out of his depth last night, the match became dangerous, with wild challenges and poor sportsmanship tarnishing the final few minutes.
OFC General Secretary Tai Nicholas today told Radio Sport that he planned on getting referees from the Asian Football Confederation to oversee the match between New Zealand and New Caledonia.
"The referee was perhaps out of his depth and lacked a bit of experience, and we will review that and perhaps he needs to gain some more experience before we allow him to referee again," said Nicholas.
It will be a shot in the foot for FIFA's Referee Assistance Program, which has ring-fenced money to OFC to help develop officials in the confederation.
Nicholas said the plan had always been in place for AFC officials to oversee the final group matches, but it must be asked, if they are not deemed good enough for the final rounds, why were they in charge at all?
Ben Sigmund hit out at the standard of officiating over the last two games as 'disappointing, frustrating and terrible', and was not alone in evaluating a sub-par performance.
But referee Oiaka and his colleagues from Tonga, Solomon Islands and New Caledonia were pulled from the off-season in their native countries straight into the realm of international football. The jump from reffing domestically in the islands to controlling a World Cup qualifier proved a leap too far. And last night it was a recipe made for disaster.
-nzherald.co.nz