Big prop hasn't been doing enough to warrant selection for Hawkes Bay.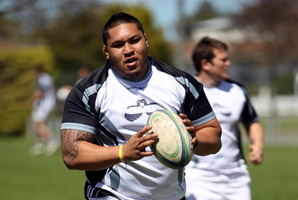 Hawke's Bay Magpie Ben Tameifuna is overweight.
Hawke's Bay Rugby Football Union chief executive officer Mike Bishop yesterday said the burly prop had been turning up to training sessions with squad but he hasn't been doing enough to warrant selection.
"He certainly hasn't helped himself," Bishop said after Bay fans started asking questions about why the Super Rugby title-winning Chiefs player suddenly fell out of favour with coach Craig Philpott during the ITM Cup Premiership campaign.
The Magpies are facing relegation to the lower-tier championship next year as they sit on the last rung of the premiership ladder with one more game to play tomorrow against Waikato in Hamilton.
The task of winning from 5.35pm kick off at Waikato Stadium has become a daunting task considering it is a Ranfurly Shield challenge.
Tameifuna, who assured Magpies fans he was postponing his 21st birthday celebrations on August 30, returned to the Bay after a rigid training session with the greaterAll Blacks squad after catching the eye of the national selectors following a stellar Super season under former Magpies co-coach Tom Coventry.
Coventry, the Chiefs' forwards coach who also instrumental in turning the Manu Samoa pack into a force at the Rugby World Cup late last year, had taken the Hastings Rugby and Sport player under his wing and had also provided accomodation for him.
He was also excited by the prospect of Tameifuna's versatility, expecting him to be an accomplished hooker someday between the Frank brothers.
Bishop said Tameifuna returned to the Magpies after the Super Rugby campaign but wasn't in shape.
Havelock North loosie Adam Brady personfied fitness in the Bay squad, something Tameifuna had failed to emulate.
Philpott had started Tameifuna on his preferred tighthead position but switched him to loosehead a few games into the season before dropping him all together from the 22-member squad on September 29 in the winning match against the Bay of Plenty at McLean Park, Napier.
He is not in the equation for tomorrow's shield challenge.
Yesterday Tameifuna was running around with other teammates in a light training session at the Napier Old Boys' Marist grounds at Park Island with Magpies fitness trainer Grant Dearns following a classroom session with Philpott and assistant coach Danny Lee.
Many fans have asked how a player who had achieved so much for the Chiefs and had meteorically risen to theranks of making the Steve Hansen's greater ABs squad had suddenly lost his fitness.
"I want to be up there with the Jonah Lomus and the Buck Shelfords. I grew up wanting to be like them so I'm just doing my bit," Tameifuna has said.

Play Jimungo Virtual End of Year Rugby Tours
Compete for prize money and bragging rights in Jimungo Virtual Rugby Tours - our game for all of the end of year international rugby matches. Simply choose the winning team and margin. Sign up now.