Twitterverse get in on the Cole act, Juventus coach makes matters worse and Bolt continues to amaze.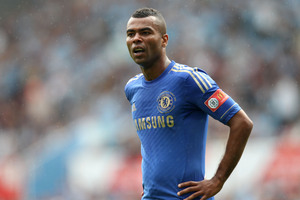 Copycat tweets
Ashley Cole hit out at the FA last weekend on Twitter after it was claimed that his evidence had been changed in the John Terry racism trial. The Chelsea defender tweeted, "Hahahahaa, well done #fa I lied did I, #BUNCHOFTWATS."
He later deleted the tweet, but not before it was re-tweeted more than 19,000 times. The Twitterverse quickly got their laughs in, with a number of well-timed copycat responses published by the MirrorFootball twitter account. Here are some of our favourites.
Just bumped into the Manchester City assistant manager and his family #BUNCHOFPLATTS
Went so see Croatia play #BUNCHOFCROATS
Went to a jazz festival #BUNCHOFSCATS
Went to weightwatchers last week #BUNCHOFFATS
This fuss over Ashley Cole is a bit much, it's not as though he shot anyone. #BUNCHOFOLDFACTS

Probe into star's response
Chicago police are investigating whether former Bulgarian soccer star Hristo Stoitchkov punched a journalist who was asking for an interview. It's now up to the alleged victim, Svetlozar Momchilov, to request a warrant if he wants to pursue the matter further. Bulgarian newspaper Trud says Stoitchkov has denied the charge. The paper says the alleged victim is editor-in-chief and publisher of the Chicago-based Bulgaria Today.

Juventus coach in more hot water
It doesn't get any better for Juventus coach Antonio Conte, already serving a four-month ban for match-fixing. He now faces missing a few more games for criticising Italy's sports justice system. The Italian football federation's prosecutor announced yesterday that Conte will have to face a disciplinary commission for his comments after his 10-month ban was upheld on appeal in August. Conte said then that he was being made a scapegoat and that there was a judge who had something personal against him.

Going out in blaze of glory
Remember the bloke who punched the horse out in the 1974 comedy movie Blazing Saddles? Well, Alex Karras, the rugged lineman who anchored the Detroit Lions' defence in the 1960s, then went on to an acting career has died, aged 77. For all his prowess on the field, Karras may have gained more fame when he turned to acting. Playing a not-so-bright bruiser in Mel Brooks' film, he not only slugged the horse but also delivered the classic line: "Mongo only pawn in game of life."

Vandalism case delayed
A Nashville judge is delaying the public intoxication and vandalism case against two-time Olympic gold medalist snowboarder Shaun White who is accused of destroying a phone at a Nashville hotel and hitting his head, which required him to go to the hospital. White won a gold medal in Turin at the 2006 Olympics and in 2010 at the Vancouver Games and holds multiple X-Games gold medals. He is an action sports superstar, whether skateboarding during the summer or snowboarding in the winter. The 26-year-old White is also a multimillionaire with a clothing line and video game.

Bolt talks beautiful game
Fresh from a whirlwind trip to New Zealand where he showed his basketball prowess, Usain Bolt has told the Japanese he would be keen to play soccer when his athletics career winds down. Coming on top of his stated love of cricket, we wonder is there anything the superman can't do? Maybe wrestle gators in Florida?

THEY SAID IT:

"I'm sick of the bloody foot. It's like stepping on a red-hot lump of coal."
- Richie McCaw recounts his World Cup foot troubles.

"We focused solely on finding the truth without being influenced by celebrity or non-celebrity, threats, personal attacks or political pressure because that is what clean athletes deserve and demand."
- USADA chief executive Travis Tygart following the release of the Lance Armstrong report

"I would have been much more comfortable talking only about myself, but understood that I was obligated to tell the truth about everything I knew. So that is what I did."
- George Hincapie, a former teammate of Armstrong

"The conversation left me with no question that I was in the doghouse and that the only way forward with Armstrong's team was to get fully on Dr Ferrari's doping programme."
- Vande Velde testified.

"A one-sided hatchet job - a taxpayer-funded tabloid piece rehashing old, disproved, unreliable allegations based largely on axe-grinders, serial perjurers, coerced testimony, sweetheart deals and threat-induced stories."
- Armstrong's lawyer.

"It was sore all the way through the semi, but only really sore when the whistle went. One of the most challenging bits was running up the tunnel at halftime. Getting on and off the field was complete agony."
- THAT McCaw foot again.