Only Wales and perhaps England look likely to halt All Blacks' march to 21 test wins in a row.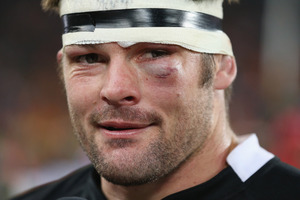 The All Blacks will equal a world record 17-test winning sequence in their next outing, which doubles as Keven Mealamu's 100th international.
That presumption is not my usual take on rugby and it is never the All Black way. But this squad are several clicks ahead of any team in the world.
They are playing with a panache and belief which suggest they should sign off the season undefeated and push the record, jointly held by New Zealand and South Africa, out to 21 consecutive test wins.
Only Wales and perhaps England look likely to put a halt on that march into the IRB record charts. Wales play an all-purpose style with skill while England have stacks of power and might benefit if the All Blacks are distracted about their trip home.
The Wallabies in a fortnight? Don't think so, not this season, not with their wide injury list and ebbing confidence.
They will bristle in Brisbane, as both teams gather themselves after global Rugby Championship duty before more travel to Europe.
But it is hard to see the Wallabies staying with the All Blacks when you compare both sides' form.
Mealamu's milestone will also be an All Black incentive. Admiration for the hooker is immense and the team will want to celebrate his record night with a display to mirror his contribution.
Injury is the one ingredient which might unsettle the All Blacks' progress.
That and perhaps a selection gamble or two on the tour to Europe.
The Wallabies and Boks have lost tiers of top players to injury while the All Blacks have shed only Richard Kahui, Colin Slade, Anthony Boric and Ali Williams.
In their absence, the prospecting has unearthed gold nuggets in Julian Savea, Beauden Barrett, Aaron Smith, Brodie Retallick and Luke Romano.
A fitness failure for Richie McCaw, Dan Carter, Kieran Read or Ma'a Nonu will change the dynamics of the All Blacks, though.
McCaw is playing with all the experienced verve he has learned in 112 tests.
His mental edge is unmatched, his desire to contribute undimmed.
You suspect he could have found the stamina to write his book rather than author Greg McGee if there had been any glitch for tomorrow's start to a massive 60,000 print run.
He clashed heads with teammate Ben Franks yesterday at the Soccer Stadium in Soweto and his left eye was closing as he was interviewed after an unbeaten Rugby Championship run.
As usual he praised his comrades but you could sense the inner glow about his own performance and the style the All Blacks were showing.
All the bravura and no result is not a rugby recipe for New Zealanders.
But join the two and it makes their work on the international stage a treat to watch amid so much of the routine rugby.
Kudos will go to the players who show exceptional skills under fire.
They want to play this way and have worked overtime in many areas to make it happen.
Praise must also go to the staff, led by Steve Hansen, who have settled on strategies which suit the players, their psyche, the rules and unnerve their opponents.
They have pushed this group on from the World Cup, they have nurtured them to the next level and asked their rivals to find an answer.
All Blacks 32
South Africa 16