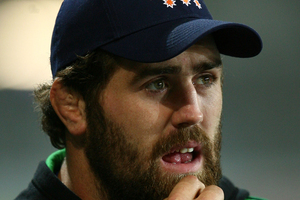 Honesty is highly valued in Southlanders and Stags rugby captain Jamie MacKintosh might have won a few supporters after he wrote a letter to the editor of the local paper apologising for his side's embarrassing 84-0 defeat to Canterbury last weekend.
MacKintosh penned the letter this week as his way to show the players were hurting from their heavy defeat. He also felt it unfair coach David Henderson had to front the inquisition when it was the players who had let their coach down.
"This week has been one of my toughest weeks since starting to play for the Stags in 2004,'' wrote MacKintosh, who signed off the letter that appeared in today's Southland Times by his nickname Whoppa. "Our result last Sunday reflected a performance that no one in the team was proud of.
"The playing group especially felt they had let each other down, but more importantly let our coaches down who put a lot of time and effort into preparing us for games.
'One of the key attributes of being a Stags player is looking your mate in the eye after the game knowing that you worked really hard for him. Sunday's changing room was a very sombre experience in this regard.
"The season has had its ups and downs for us. Having a lot of injuries to frontline players has been testing on the depth of our squad, but the great thing about sport is that we have a week to turn what was a very disappointing performance around and play in front of our home crowd and prove to our coaches, sponsors and supporters that we are a committed bunch who want to play for each other and our province with pride.
"Although the season hasn't gone to plan, I think we have showed some resolve in the mid part of the season to set ourselves in position for the playoffs. Two late wins could see us play Otago at home in the playoffs - wouldn't that be great?''
It would take a significant turnaround to achieve that.
- APNZ