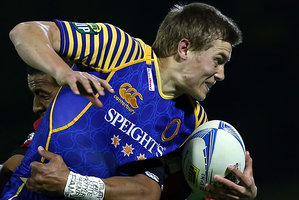 Tony Ensor of Otago. Photo / Getty Images
Another ITM Cup game - another 80 points.
Defence again took a back seat tonight as Otago beat Manawatu in Palmerston North.
A bit of brawn, a bit of brain and a large dose of speed got Otago home 51-35.
With the win, Otago has all but confirmed a place in the ITM Cup championship semifinals, while Manawatu will have to start planning for next season.
Otago made the most of the chances it created and managed to survive a comeback from Manawatu when the home side got to within one point midway through the second half.
But the visitors managed to regain some composure and speedy fullback Tony Ensor got the gamebreaker.
He received the ball about 70 metres out and snaked his way through a jagged Manawatu defence to dot down under the posts.
He had earlier scored a try in the first half, showing extreme pace.
As the score suggested there was plenty of ball movement and both sides showed plenty on attack.
Otago kicked well at times and got in behind the Manawatu defence to score six tries.
For 50 minutes Manawatu looked like a rabbit in the headlights.
Slow, inaccurate and dropping off tackles, the home team looked a distant second to Otago.
However, for reasons unknown the home team then came together and pulled it back to 31-30 before Ensor put on the after-burners.
Overall, Manawatu did not deserve to win - showing little respect for the ball and blowing a couple of golden opportunities.
Its defence was sloppy at key times and one would hope the Manawatu players value their pay packets more than the ball, such was their lax ball security.
Best for Otago was first five-eighth Hayden Parker, who must be knocking on the door of a Super 15 contract, while flanker Gareth Evans played well off the bench.
Flanker TJ Ioane was a mixed bag, while for Manawatu first five-eight Nathan George was composed and flanker Callum Gibbins fully deserved his two tries.
Otago made a great start, scoring a try in the first couple of minutes.

After winning a lineout, the ball was spread to blindside flanker Ioane who passed inside to his skipper Paul Grant. Grant brushed off tackles and when he was lowered 5m from the line, fed prop Aki Seiuli who dived over.
Manawatu came back from that early shock and wing Lewis Marshall scored in the corner after 10 minutes.
Otago scored another couple of tries in the opening half, but silly errors meant it could not skip clear with the home side still in touch at the break.
Otago 51 (Tony Ensor 2, TJ Ioane 2, Aki Seiuli, Glenn Dickson tries, Hayden Parker 4 con, pen, Dickson 2 con, 2 pen) Manawatu 35 (Callum Gibbins 2, Lewis Marshall, Antonio Kirikiri tries, Nathan George 3 con, 3 pen) Halftime: 24-16 to Otago.
Play Jimungo Virtual End of Year Rugby Tours
Compete for prize money and bragging rights in Jimungo Virtual Rugby Tours - our game for the end of year international rugby matches. Simply choose the winning team and margin. Sign up now.