From its genesis in the underground cage fighting scene to its ability to sell out vast stadiums, no sport has imprinted itself on the world as quickly or dramatically as mixed martial arts. Over the next three days, Steve Deane traces its roots and looks at its place in the sporting landscape, including a close-up look at the burgeoning local scene.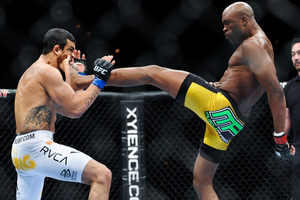 "He might break his arm here, Mike," screams fight caller Joe Rogan from ringside in Toronto, Canada, his voice reaching out across the planet via a vast web of TV networks.
"HE MIGHT BREAK HIS ARM!"
He might, too. The arm in question belongs to UFC light heavyweight champion Jon Bones Jones. It's trapped in a classic jiu-jitsu arm-bar by 35-year-old Brazilian MMA veteran Vitor Belfort, a man whose imposing physique and iron countenance suggest a life of sprinkling gravel on his breakfast bowl of granite.
Many a man - almost any man - would have tapped out by now, in doing so losing the fight but saving his arm. Jones is no normal man. His elbow is hyper-extended, but he doesn't quit. With Belfort clinging on like a crab that has just been plucked from the surf, Jones struggles to his feet. Belfort's grip slips and his moment is gone. He won't get another.
Jones mounts his nemesis and unleashes a methodical series of elbows that quickly peel open the skin above Belfort's right eye.
By the end of the five-minute round the Brazilian's face is a mask of blood. In the next round Jones establishes dominance with his feet, an endless supply of debilitating kicks stomping down on Belfort's right leg just above the knee. Increasingly desperate by the mid-way point of the third round, the Brazilian retreats to his back in the hope of locking in another submission hold. Another face full of elbows is all he gets for his trouble before the bell provides a minute's respite.
It ends mercifully quickly in the fourth. Jones attacks the flagging Belfort, negotiates his arm into an Americana hold and applies pressure on the elbow joint. Belfort taps out to end the contest. Jones has retained his title, but at what cost?
At the post-fight interview with Rogan, a minder slips a can of a sponsor's energy drink into Jones' hand. He can't grip it and hands it straight back in annoyance. Eventually he uses the title belt around his waist to support his damaged limb.
Hours later he tweets "victory is reserved for those prepared to pay its price".
Watching on from the Juice Bar in swanky Parnell - a seemingly unlikely venue for a gathering of blood sports fans - is a crowd that for big fight Sundays will swell to around 300. Among them is Anaru Comrie, a 33-year-old warehouse manager who with his cap, hoodie, bright red basketball boots and spacer earrings could pose as a poster child for what Marshall Zelaznik, UFC's managing director for international development, refers to as the ADD generation (the term being more a catch-all for humans with a plethora of entertainment options rather than any reference to actual attention deficit issues, one suspects).
Comrie has been running a Facebook campaign for the UFC to come to New Zealand for a couple of years. He's always liked fighting sports and grew up following boxing and kick boxing. Compared to the multi-faceted art of MMA, those sports now bore him, although he did watch Shane Cameron's last fight against Monte Barrett. "I even watched those chicks fight," he admits. "But I don't know why."
As UFC 152's preliminary fights roll along on the big screens we're joined by Comrie's friend Barry Smith, a 30-year-old who was made redundant from his job as an event manager for AUT and is now studying for his helicopter pilot's licence. Smith has a sideline promoting UFC events to pubs such as the Juice Bar.
Comrie and Smith agree the MMA scene in New Zealand has become "amped" in recent times.
Sitting in his office half a world away in Las Vegas, that would be music to the ears of Zelaznik, whose job it is to oversee the UFC's global expansion.
Like Smith's fledgling operation, Zelaznik's work has been going pretty well.
"We confidently believe we are the world's fastest-growing sport," he says. "This is a sport that is being built in our lifetime. That's one of the things people are attracted to - this is mine, this is my generation's sport. They've got this passion."
It's a statement that blurs the lines a little. UFC isn't a sport, it's a promotional body that offers the sport of MMA. But a bit like Americans referring to photocopying as Xeroxing or Popsicle becoming the generic term for an iceblock, the UFC is becoming MMA.
Asking Zelaznik to explain the UFC's transformation from pariah on the brink of financial ruin to global sporting phenomenon is a bit like asking your neighbour to give you a quick rundown on their new Ferrari. The answer to the first question rolls past the 10-minute mark. It may be a stump speech, but it's a good one.
The UFC's success boils down to two main things. First it honed MMA into a sport that contained mass appeal, then it convinced TV networks, politicians and lobby groups it was okay to show it to the masses.
The first part of that scenario involved looking at all that is wrong with pro boxing, then doing the opposite.
"The concept is almost built for an ADD generation," says Zelaznik. "There is always something happening in the octagon."
Where promising boxers will spend years knocking over bums before risking a meaningful fight, the UFC ensures every fight is meaningful. Success, in terms of glory and money, comes quickly. But failure and obscurity are never far away either.
"Every fighter is looking to dominate the other because there is a food chain," Zelaznik says. "There is so much on the line for these guys to start climbing the ladder. The way we've built it, we want to find the cream in each weight division. We perpetually take winners of fights and put them up against other winners so we see truly who is the best."
Having begun as a means of determining which martial art was superior, another central attraction of the UFC is the variety of fighting styles. But whereas once it would not be uncommon to find a karate exponent taking on a greco-roman wrestler, the best modern fighters are now versed in all fighting styles. MMA has become a fighting style in itself.
"Fans have come to realise the UFC is really the place to see the best fighters in the world," Zelaznik says in claim that's hard to refute.
As former fighter turned coach Steve Oliver says of the UFC: "It's the platform to get it out there and expose what is true, what is bulls**t and what is working. It's been a long time coming."
Fighters can bring any style they want to the octagon, but they must obey the 31 rules that have allowed the UFC to become mainstream without sacrificing entertainment value.
There were just two rules when the UFC began in 1993 - no biting and no eye gouging - and no weight classes. It was loosely controlled violent mayhem that appalled American society, leading to bans on events and the pulling of TV contracts.
After reinventing itself as a highly regulated sport that takes fighter safety seriously, UFC events were sanctioned by American athletic commissions. That brought the sport back out of the shadows. However, the UFC still faced a huge PR hangover from its inauspicious beginnings.
The battle was to convince people UFC bouts were sport rather than spectacle, and that they were safe. Zelaznik points out that in more than 2500 fights under the wider UFC banner there has never been a death or serious injury.
"By serious I mean the kind of injury that affects somebody's quality of life. We don't have any brain injuries. Every once in a while we've had a broken arm or a broken leg, the kind of stuff you might see in other contact sports, but none of those life-changing injuries other sports might have suffered from time to time.
"It's all part of the message that we need to get out to the regulators, to media companies and ultimately the public so they know what they are watching is safe and not just mayhem for the sake of mayhem. This is competition."
The growth in the UFC's popularity has been remarkable. In 2007 pay-per-view revenues passed the US$200 million mark, outstripping boxing and wrestling.
TV coverage of major events across more than 140 countries reaches an audience of millions. In April last year UFC 129 attracted a crowd of over 55,000 to Toronto's Rogers Centre, garnering gate receipts of US$11 million.
The over-riding sentiment is that the rise and rise of the UFC has been good for MMA. The sport has hit the mainstream - and its here to stay.
An idiot's guide to following MMA
What is this MMA thing all about?
Mixed martial arts pits fighters from a variety of martial arts backgrounds against each other in an eight-sided ring. Fighting styles include boxing, wrestling, judo, taekwondo, kick-boxing and jiu-jitsu. While some fighters will specialise in one art, MMA is now considered a fighting style in its own right, with MMA-style fighters proficient in all the requisite fighting styles. Fights are typically over three five-minute rounds, with bouts decided on points, via knockouts or submission holds, or referee stoppages.
Where did it come from?
Many countries have a tradition of mixed martial arts fighting dating back hundreds of years. The modern sport of MMA is most closely derived from the Brazilian combat sport Vale Tudo, which loosely translates as "anything goes".
So are there any rules?
Absolutely. In early MMA contests there were just two rules - no biting and no eye gouging. Striking to the groin was frowned upon but not illegal. But these days most MMA bouts are highly regulated. The dominant global promotional body, the UFC, has 31 rules. These include no head butting, throat strikes, kicking a grounded opponent in the head and no swearing.
But it's still extremely dangerous, right?
Seemingly not. The UFC trumpets the fact that in more than 2500 fights held under its wider umbrella since 1993 there have been no deaths or serious injuries. A study from Johns Hopkins School of Medicine concluded that injury rates were in line with other combat sports involving striking.
So what's this UFC all about?
The Ultimate Fighting Championship is the dominant global promoter of MMA. Based in Las Vegas, it styles itself as the NFL or NBA of fight sports. It runs a stable of 350 contracted fighters and holds events in North and South America, Europe and Australia.
Is it popular?
Hugely. In 2006 UFC's pay-per-view revenue eclipsed boxing and professional wrestling for the first time, with the organisation pulling in US$222million ($270 million). Last year UFC 129 attracted a record crowd of more than 55,000 to the Rogers Centre in Toronto. Pay-per-view sales regularly top one million.
So who are the stars?
Light heavyweight champion Jon "Bones" Jones is the biggest name in UFC right now. The American's eye-catching spinning elbows and back kicks combined with his wrestling ability have taken the sport to new levels. Other big names include heavyweight champ Dos Santos, middleweight champ Anderson Silva (both Brazilians), Canadian Georges St-Pierre and former pro wrestler Brock Lesnar.
Are Kiwis any good at it?
Yes. New Zealand has two UFC fighters - Mark Hunt and James Te Huna. Hunt is a 38-year-old former K1 kick-boxing champion with an 8-7 MMA record who has been slowed by injury in recent times. Te Huna is a highly regarded 30-year-old light heavyweight with a 4-1 record. Former kick-boxer Ray Sefo is a highly regarded striking coach.
What is the Kiwi MMA scene like?
Growing rapidly. Local promoter Neil Swailes estimates the number of Kiwi fighters has grown from 400 to more than 600 in a year, while there are now 60-70 gyms nationwide training MMA. Some of our local prospects are starting to break through overseas. Top-ranked Auckland fighter Brandon Ropati recently signed a six-fight deal with Hong Kong promoters Legend Fighting Championship. However, Ropati will be out of action for a while after rupturing a knee ligament while winning his first fight of the contract.
By the numbers
1993 The year UFC started
2 The number of rules when UFC first started
31 The number of rules in place now
2500+ The number of bouts fought under the UFC banner
140+ The number of countries televising UFC
$200m+ The annual pay-per-view revenue (US$).
Tomorrow
The Herald gently and politely dips its toe into the local MMA scene. We meet a trio of Kiwi fighters preparing to go into battle and are introduced to James Te Huna, New Zealand's best fighter.