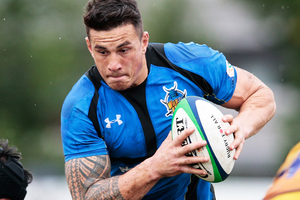 Former All Blacks centre Sonny Bill Williams showed some of his worth by scoring his first try in three games after his high-priced move to Japanese rugby.
He also threw in a handful of his trademark offload passes, although his Panasonic Wild Knights went down 32-22 to Toshiba Brave Lupus in Tokyo today, in the fourth round of the 2012-2013 Top League season.
Williams, who sat out the season opener and assisted a try in his Japan debut in the second round, drew a huge roar from the biggest crowd of the season when he grounded the ball for his try in the 24th minute, cutting Panasonic's deficit to 8-10, with a conversion putting the game level.
"It's always disappointing when you lose," the 27-year-old New Zealand superstar said after the game before 12,300 spectators at the Prince Chichibu Memorial Rugby Ground.
"It was good to get across the try line but I was really disappointed and frustrated at the end.
"Toshiba played a forwards game and played well. We just have to be smarter.
"We let in some soft tries and have to go back to the drawing board and listen to the coaches."
Williams, who helped the All Blacks win the World Cup at home last year, left his national side and Super Rugby champions the Chiefs to earn a reported $1.2 million for playing 12 games in Japan. Next year he will return to rugby league in Australia's NRL competition where he first made his name.
Panasonic, the runners-up to Suntory Sungoliath in the Top League and the All-Japan championship last season, stood fifth on the league table with two wins and two losses. Suntory kept their lead with four straight wins for 20 points, including bonus points.
Toshiba also remained undefeated with four wins for 18 points.
-AAP