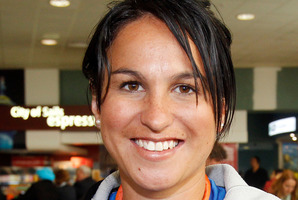 Three-time Olympian Kayla Sharland has joined a list of celebrities who have signed up to get a taste of extreme poverty.
The Black Sticks captain has volunteered to live on $2.25 a day from September 24-28, as part of the Live Below the Poverty Line project.
"It's obviously not a lot of money, but I've got a bit of a theory of putting it all together and buying cheap food that can sustain energy, like oats," said Sharland.
The athlete said it would be difficult to keep her energy levels up, but it was an important cause to be part of.
"If a lot of people get on board and we fundraise as much as possible then we can really get in there and get some money to those who are really in need."
There are eight different charities affiliated with the project, including TEAR Fund's child trafficking prevention programme and Unicef's child nutrition programme in the Sahel near Africa's Sahara Desert.
Project spokesman Patrick Rose said the idea was to get discussions going about extreme poverty.
"It acts as a catalyst for hundreds and hundreds of conversations to take place," he said.
Those who wish to help in other ways can donate to one of the charities or sponsor people taking part.
Sharland joins a growing list of celebrities - including Jonah Lomu, Frank Bunce and MasterChef's Nadia Lim - planning to Live Below the Poverty Line.