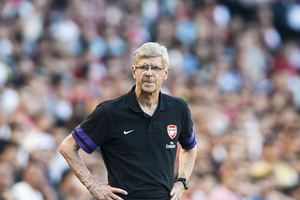 Arsenal manager Arsene Wenger has given the club a glimpse of the future by saying he could leave the club when his contract expires in two years' time.
The Frenchman has been in charge of the Gunners since September 1996 but is currently overseeing a seven-year trophy drought.
That prompted previously unthinkable scenes last term, as some Arsenal fans turned on Wenger with chants of "you don't know what you're doing".
And the departure of then captain and star striker Robin van Persie in pre-season - the latest in a line of Gunners skippers to leave the London side - to Premier League giants Manchester United, sparked fresh concerns.
Those will only be intensified if Arsenal drop points to a newly promoted Southampton side at the Emirates on Saturday, with the visitors bottom of the table and the only team in the division still without a point.
"I'm an Arsenal man," said the 62-year-old Wenger. "I think I've always shown that.
I have to consider if I do well or not. If I don't do well, I have to consider my future.
"At the moment we are not there. Two years is a long time in my job. I just want to do well for the club as long as I can and accept all the rest."
Table-toppers Chelsea, the Champions League holders, make the short journey to local rivals Queens Park Rangers, having won their opening three EPL fixtures.
But the latest edition of the west London derby continues to be over-shadowed by the fall out from allegations involving John Terry and Anton Ferdinand.
The match will be the first between the clubs since Chelsea and England defender Terry was found not guilty of using a racial slur against the Hoops' Ferdinand in the corresponding fixture last October.
Reigning champions Manchester City will hope to welcome back Argentina striker Sergio Aguero,who injured his knee during the opening weekend win over Southampton, for the tricky trip to an always obdurate Stoke.
Meanwhile United great Peter Schmeichel is looking forward to van Persie - who has scored four goals in his first three appearances for Alex Ferguson's side - continuing his form against Wigan.
"He has been perfect for what we needed to do," said the former goalkeeper. "We have brought the right player in."
Liverpool travel to Sunderland looking for their first league win under new manager Brendan Rodgers.
The match comes at the end of an emotional week for the club.
An independent report into the 1989 Hillsborough disaster, which claimed the lives of 96 Liverpool fans, found police changed statements and tried to blame supporters for the crush.
Saturday also sees Aston Villa playing Swansea, Fulham up against West Brom and Norwich at home to West Ham, while Reading and Tottenham meet on Sunday.
-AAP