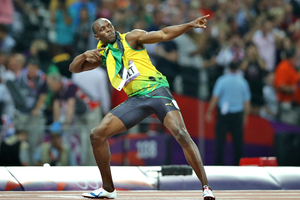 The fastest man on the planet, Usain Bolt, will warm up with the Breakers basketball side as part of his visit to New Zealand on October 8.
The Jamaican sprinter will be in Auckland next month to promote Gatorade sports drink, which has also teamed up with the Breakers.
Bolt will feature in the team's warm up before the Breakers senior side take on their academy squad in a friendly training session on the North Shore.
"We are stoked to partner with Gatorade, and every player is buzzing about the opportunity to meet Usain Bolt and launch the relationship in a special way," Breakers general manager Richard Clarke said. "Certainly the boys are looking forward to the chance to warm up with the fastest man on Earth."
Upto 20 fans will be selected by Gatorade officials to attend the event.
At the London Olympics, Bolt defended all three of his gold medals won in Beijing in 2008 in the 100m, 200m and 4x100m relay.
Play Jimungo Virtual Basketball
Compete for prize money and bragging rights in Jimungo Virtual NBL. Simply choose the winning team and margin. Sign up now.
- APNZ