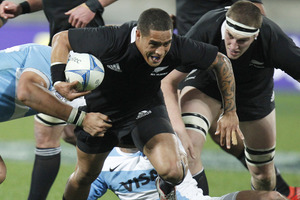 You sense the All Blacks pulse has risen a few notches.
They are unbeaten in the Rugby Championship but they have not escaped their own censure or public carping.
They are determined to play a broader style but have yet to find the right set of conditions to show those intentions.
Tomorrow they step into new territory when they rock up to the covered Dunedin stadium to play the Springboks.
This is the All Blacks' first test at this venue and their farewell domestic international before games in Argentina, South Africa, Australia then an end of year tour to Europe.
Victory could also give them the inaugural series title.
All those issues are a little way in the distance but there has been a feeling about a need for redress around the All Blacks camp.
They did some of the business in Sydney, fluffed their lines at Eden Park and were then sawn off by the weather, some rust, too much ambition and the Pumas' defence.
Five-eighths Aaron Cruden gets his first international combat against the Boks. "I remember when the games were over in South Africa, waking up early in the morning, with a cup of Milo and my old man, watching the footy," Cruden said.
This time the Boks will be in his face and the response from him and recalled halfback Piri Weepu will be core to the All Blacks patterns.
Weepu gets his chance because Aaron Smith broke team protocols after the test in Wellington.
Coach Steve Hansen would not elaborate on Smith's indiscretion other than to say it "was not a major but it is non-negotiable".
The irony is that Weepu, who was once a poster boy for similar imprudence, now wins promotion. He may have got there on form, we will never know.