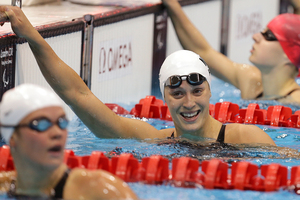 Sophie Pascoe has collected a six-medal haul at the 2012 Paralympic, coming second in her final event to add to her three golds, and two silvers in London.
Swimming in the SB9 100m breaststroke event, the 19-year-old produced a career best 1:19.28 to set an Oceania record and qualify second fastest for the final. She then swam nearly a second better in the final to post 1:18.38, just a shade off the winner, Ukrainian Khrystyna Yurchenko, who recorded 1:17.81.
In all of the Cantabrian's 12 races - six heats and six finals - she finished no worse than second.
"I'm incredibly rapt to finish the games off like that. My ultimate goal was to get on the podium and that's what I've done. I've taken two seconds off my entry [to the Games] time. I'm finished and had a great campaign and a successful one," said Pascoe.
Pascoe and bronze medallist Harriet Lee of Great Britain couldn't be separated at the split, turning in 36:90, three hundredths of a second behind the race winner.
"I just gave it hell for leather on the way back. I just wanted to hold on as much as I could and I did."
While Pascoe said every one of her London medals were something to celebrate, she felt her gold on opening night was an important start for her amazing run. "My 200 IM definitely was a great start to the meet, and I didn't expect the time I saw up there on the board, and I guess I'll be reflecting on that on the way home on the plane, just how well I've done."
She said swimming will continue to be her career for the foreseeable future.
"I'm still hungry for more, I love the competition, I love the feeling of what people pay to feel and that's the adrenaline rush and I want to have that again."
More magic in the pool came in the form of Wellingtonian Mary Fisher, whose gold in the S11 200m individual medley rounded out the New Zealand's total haul of 17 medals at the Games.
And Daniel Sharp, who finished second in the SB13 100m breaststroke final, had an anxious 25-minute wait before the judges admitted they got it wrong and overturned his disqualification for an illegal stroke.
Sharp had posted 1:06.72, knocking two seconds off his previous best, before his long wait.
"It was a bit stressful. I wasn't overly nervous because I was confident I hadn't done anything wrong, but yeah there was a wee while to wait to find out what the ruling they had down and then they had the wrong things and written the wrong thing down so we were able to put in a protest and get it overturned.
"They had claimed that I had done a butterfly stroke before my pull-out [turn] but a stroke involves using the arms and I was still under the water, and the kick I did is part of our pull-out. I don't know what the official was thinking but they had written the wrong thing down as well."
New Zealand's swim team banked 12 of New Zealand's 17 medals; Sophie Pascoe three gold and three silver, Mary Fisher's one gold, two silvers and a bronze, Cameron Leslie's gold and Daniel Sharp's silver.
Cycling provided four; Phillipa Gray and Laura Thompson's gold, silver and bronze and Fiona Southorn's bronze.
Michael Johnson won a bronze in the standing 10m air rifle event.
- APNZ