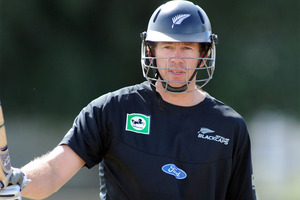 Most New Zealand cricketers will find the switch to the shortest form of the game for Sunday morning's first Twenty20 against India something of a shock to the system.
The majority will have to adjust after a month wearing the whites, while others will have to shake off the rust after a spell on the sidelines.
Then there's Jacob Oram.
Not only has the veteran allrounder been playing Twenty20 cricket as recently as last weekend, Oram has been doing a rather fine job of it.
He played a starring role in the inaugural Sri Lankan Premier League as his side, from the Uva province and sporting the rather peculiar moniker of 'Next', took out the competition to qualify for the Twenty20 Champions League.
In last Saturday's final, Oram took 1-13 from his four overs for Next who, despite their success, perhaps should have stuck with their original nickname, the Uva Unicorns.
He wasn't required with the bat in the 19-run win, but made his impact with the willow in the semifinal by hitting five sixes in an innings of 41 from 17 balls.
The match practice was as important as the plaudits for Oram, and three weeks playing professional cricket was slightly better preparation than the alternative.
"If I didn't go to Sri Lanka, I would have just been bowling indoors in 10-degree weather in Palmerston North and trying to find a grass strip wherever I could," he said. "Not only the matches but, in between matches, to be training and bowling on grass, and just sweating and being in 35-degree heat - it couldn't have been any better."
The same could be said of his performances with the ball. Oram was the joint-highest wicket-taker in the competition with 11 scalps in six matches, while he also boasted the best economy rate of 3.82 runs an over.
That success came in the unfamiliar role of opening the bowling, something he enjoyed but a duty he expects to defer to the likes of Tim Southee, Kyle Mills and Doug Bracewell in India.
As well as playing himself into some form for the two-match series, playing in Sri Lanka had other benefits for Oram and Black Caps.
Sri Lanka are hosting the Twenty20 World Cup, beginning for New Zealand with a match against Bangladesh on September 21.
Oram accrued some valuable insights about the conditions his teammates can expect to face when that tournament gets underway, especially considering he played three matches in Kandy, New Zealand's base for the initial stages of the competition.
"Not what I expected," was how the 34-year-old described the conditions. "It was actually quite lush, quite green - it was the wet season.
"I think you can tell by the bowling figures of a lot of the seamers that it was doing a bit. It wasn't quite as low and slow as we were expecting but, from a seamer's point of view, it was pretty nice."
New Zealand have a fair few of them with Southee, Mills and Bracewell joined by 20-year-old quick Adam Milne, creating a competition for places that would be the fiercest in the squad.
Solving that selection riddle is among the objectives for the two matches in India, although Oram stressed these would be more than glorified warm-up games.
"We're here to win but, whatever happens, we have to make sure we learn from it because it's great preparation.
"You're not going to get a tougher competition, really - India in India. Fifty-over champs but perennial T20 favourites as well."
- APNZ