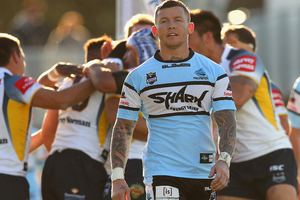 Cronulla coach Shane Flanagan says the Sharks are on the verge of becoming an NRL powerhouse.
The Sharks' off-field future was secured last week thanks to government approval of a $300 million development of club-owned land.
And ahead of the club's first finals appearance since 2008 against Canberra on Sunday, Flanagan said things are coming together on the field as well for rugby league's perennial underachievers.
"I goddamn hope so, that is what I'm trying to do," Flanagan said.
"Whilst it is good news about the club, and there is a bright future for us financially, my dream is to make us the Melbourne Storm, the Canterbury Bulldogs, the Manly - that we play semi-finals nearly every year.
"To do that you have to have a good roster and that is the other part of my job, to get good players to play here. That's what I plan to do.
"I just don't want to make this a one off.
"(We want to build on) the experience that we have had this year and I enjoyed this year a thousand times better than I did my first year last year.
"I want to make this club a really strong club at least for my time here."
With Kangaroos back-rower Luke Lewis to join the club in 2013, the future looks bright for a team Flanagan said with a bit of luck could have made the top four.
Instead they face an elimination final against the Raiders as they seek their first premiership since entering the top flight competition in 1967.
"I think we did enough to scrap into the four, but every club has their hard luck stories," Flanagan said on Wednesday.
"We have played well enough to be where we are, with a touch of luck we might have been in that top four, but that is gone now and we just have to concentrate on this new part of the competition.
"If we get through this weekend, if we win this weekend, we are in exactly the same position as Canterbury, it is cut-throat, if you lose you are out. It's only week one you get a chance, we get though this week we are where we could have been."
-AAP