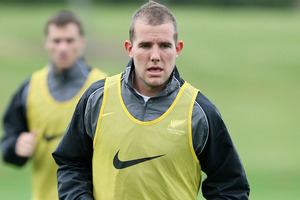 Jeremy Brockie has begun his Wellington Phoenix career with a bang - his next job is to convince Ricki Herbert that he should be a regular starter for the All Whites.
The 24-year-old has scored seven goals in the past two games for the Phoenix on their pre-season tour to India and has one more game on the trip to the sub-continent tomorrow to add to that tally.
The opposition might not have been world-class, but Brockie found the back of net four times against Shillong Lajong on Sunday and added a hat-trick against the Royal Wahingdoh Sports Club on Wednesday.
This has all been right in front of Herbert, who doubles as the All Whites and Phoenix coach, and with the first round of World Cup qualifiers getting underway on September 7 against New Caledonia in Noumea, Brockie's rich vein of form has come at the right time.
"The last couple of tours that we've been on I've sort of been in and out of the starting XI so it's just about that time when I try to cement my spot in the starting XI," Brockie told APNZ from India.
"Hopefully I can get into camp and train hard and train well and if I get an opportunity in the starting XI against New Caledonia I can do what's asked of me and cement that spot."
Following their frustrating third-place finish at June's Oceania Nations Cup in the Solomon Islands, where the All Whites were beaten 2-0 by New Caledonia in the semifinals, Brockie said the national side had a point to prove.
"You can't hide the fact that we were disappointed after that tournament and we know this is all or nothing so I'm sure you'll see a spark from the boys and a completely different outcome" he said. "We are all definitely on the same page and we are looking forward to it."
At club level, Brockie could be used in a range of positions for the Phoenix but with Leo Bertos likely to move to right-back, a place on the right side of the midfield could be perfectly suited for the man of many clubs to join.
The Phoenix are Brockie's fifth A-League franchise after the Richmond junior previously played for the New Zealand Knights, Sydney FC, North Queensland Fury and the Newcastle Jets.
Brockie's relationship up front with Paul Ifill had been a feature of the Phoenix's stint in India.
"I played the first couple of games in midfield and Ifill and I sort of had a little bit of a swap during one of the games and that combination worked well," Brockie said.
"We've sort of got an understanding of each other and hit it off pretty quickly and he knows where I want the ball and I sort of know where he's going to play it. So hopefully that combination keeps linking up well."
Herbert would love nothing more than to see Brockie and Ifill tear up A-League defences when the season gets underway in October and it might even prompt the coach to give Brockie that starting spot in the All Whites he covets.
- APNZ