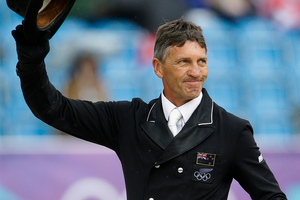 Olympic bronze medallist Andrew Nicholson is eyeing up a big pay-day at the Burghley International Horse Trials this week.
The 51-year-old is second in the HSBC FEI Classic Series, just six points behind Great Britain's William Fox-Pitt, and the US$150,000 for the overall winner represents a significant incentive. It's the biggest prize money on offer in the world of eventing and the top five riders receive a bonus.
A win at Burghley would give Nicholson 15 points, with 12 points for second and 10 for third. Burghley, which also offer 55,000 for the winner, is the last event in the series.
Nicholson has twice won Burghley - in 1995 and 2000 - and plans to ride Avebury and either Calico Joe or Mr Cruise Control. He will make that decision based on the ground conditions.
"Cruise needs a dry ground, but he is much more experienced than Calico," Nicholson said. "It's a big week alright ... and this is one event we need to win."
Nicholson, who is also leading the world rankings, opted to head to New Zealand a day later than the rest of his New Zealand Olympic team for their whirl-wind three-and-a-half day visit last week purely because he wanted to prepare more for Burghley.
"There is big, big prize money at stake here," he said. "Avebury has been going really well and has to have a good chance at winning."
Avebury and Cruise Control were the only two of 140 horses to go clear and inside time at the three-star Hartpury Horse Trials recently.
Nicholson is not the only Kiwi starting at Burghley this week. Also lining up are teammates Mark Todd on Major Milestone, who have finished 11th and 15th in their last starts together at Burghley.
"This is my favourite event," said Todd, who is a five-time winner at Burghley. "It is a fun event with a really challenging cross country course."
Caroline Powell, who won Burghley in 2010, will ride Boston Two Tip, while Jonathan Paget will compete on Clifton Lush, who was fifth there last year.
"I'd love to win it if we can," Paget said. "We will be trying our best. We've done the course walk and it looks similar to last year, but we'll be chasing a better dressage test than before. We're heading into this one in a good space."
New Zealand's Olympic reserve Lucy Jackson is also starting.
The cross country course includes three of the London Olympic fences - The Olympic Games Horses, The Planet and The Sundials have all been included in the Captain Mark Phillips-designed course.
The four star event is one of the most coveted to win and has attracted a top field, including three of Britain's Olympic silver medal-winning team in Mary King, Fox-Pitt and Kristina Cook. Fox-Pitt has won the event a record six times, including last year aboard the New Zealand-bred thoroughbred Parklane Hawk.
Australian Christopher Burton and Germany's Dirk Schrade are also strong contenders.
Burghley starts with the dressage on Thursday (UK time) and Friday, followed by the cross country on Saturday and showjumping on Sunday.
- APNZ