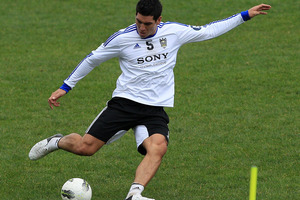 Michael Boxall needed a dose of good fortune when he joined the Wellington Phoenix and it appears to have been gift-wrapped and hand delivered this week.
The 1.88m centre back joined the Wellington club in July after being released by Major League Soccer outfit the Vancouver Whitecaps.
He was expecting a fight to play in his chosen position, which is already filled by high-profile Phoenix players Ben Sigmund and Andrew Durante.
But they, along with Manny Muscat, were suspended after Saturday's ugly pre-season hit-out against the Newcastle Jets in New South Wales and will miss the start of a four-team tournament in India starting on Friday.
Muscat will miss all four games, Sigmund three and Durante two.
That's given Boxall the chance to convince Phoenix coach Ricki Herbert he deserves a spot in his starting XI when the A-League season gets underway on October 6.
"In these next few games over in India, everyone's going to show what they have and hopefully I get to force my way in there," Boxall said.
"If you have competition in every position, that's healthy for the squad so obviously everybody in the squad would love to play. I'd love to play and it's up to us as players to make the manager's job difficult."
Leo Bertos' unexpected move to right-back presented another obstacle in Boxall's quest to find a place in the side and Tony Lochhead has a mortgage on the starting left-back role.
After spending time at the University of California, Santa Barbara, where he gained a degree in business, Boxall was picked up by Vancouver in the 2011 MLS Supplemental Draft.
The former Mt Albert Grammar School student said playing for Wellington was logical following his release by the Whitecaps after 19 appearances.
"It was always an option. There were a few after I'd got let go by the club and I think it was the best decision for me just familiarity-wise with the coaching staff and the players so I'm definitely excited to be here."
Boxall said playing for the Phoenix would also help him remind Herbert of his ability with the All Whites' World Cup qualifying campaign set to kick up another notch in the coming months.
"Training with him day in, day out and with the game's coming up [for the All Whites] he'll definitely get a better look at me for the national team.
"I'm excited to be here. I think it's on par with the level over in the MLS but I can't wait until October."
The Phoenix's first match in India is against URO United Sikkim in Imphal.
- APNZ