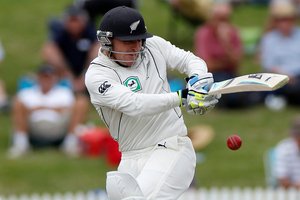 Black Cap Brendon McCullum. Photo / Christine Cornege
You wouldn't give a prayer for New Zealand's prospects in the two-test series against India starting this week.
But you can't fault the tourists when it comes to putting out a positive line on what lies ahead, beginning in Hyderabad on Thursday night (NZT) and continuing in Bangalore next week.
"It's a great opportunity to start afresh," new coach Mike Hesson said yesterday.
Brendon McCullum, who is back opening the batting with Martin Guptill this week, chipped in that "we've had a bit of a tough time of late in international cricket but this is a new era, a new regime and we've got high hopes amongst this team".
Even swing bowler Tim Southee added his bit, that "it's exciting, the players are looking forward to it. We're coming off a disappointing series against the West Indies and hopeful of turning it around."
Similar things were heard ahead of New Zealand's tour of the West Indies, which began at the end of June and finished early this month, and turned into a complete disaster.
Nine international matches were played across the three formats. Eight were lost, the exception being a solitary ODI. It was an unremitting shambles, players given no preparatory camp, being bludgeoned by Chris Gayle's bat and bamboozled by the guile of spinner Sunil Narine.
Making the right noises is entirely understandable. It would be a rum start to the short trip - two tests, two T20s - if players were spouting a woe-is-us line before even taking guard.
Numbers give an idea of the size of New Zealand's task.
They've won only two tests out of 29 in India, the last 24 years ago. On the plus side, if it can be so called, they've developed a decent ability at avoiding defeat. Eight of the last 10 tests there have been drawn.
Hesson's task is substantial. Then again, he's starting from the bottom. Things can scarcely get worse. There will be searches for signs of him putting an early stamp on the squad.
Whether that solely comes in the form of a rejigged batting order - and Hesson won't be the first to have gone down that bumpy route - or some other tactical adjustment remains to be seen. "We're really looking forward to putting good plans in place, looking to be positive in the way we play and putting the Indian side under pressure," he said.
One of those Hesson will have had in mind is the new member of India's Rajya Sabha state assembly, or upper parliament, Sachin Tendulkar.
But that new position won't interfere with his day job, at least for now.
"My mind right now is on cricket, to be honest," he said. "When the time comes I will start thinking in that direction but I should not forget the reason why all these things have happened in my life. All these things have happened because of cricket."
As for the R word, the 39-year-old record international runscorer remains coy about hanging up his bat - "I don't think [about] that. It will come when it has to come."