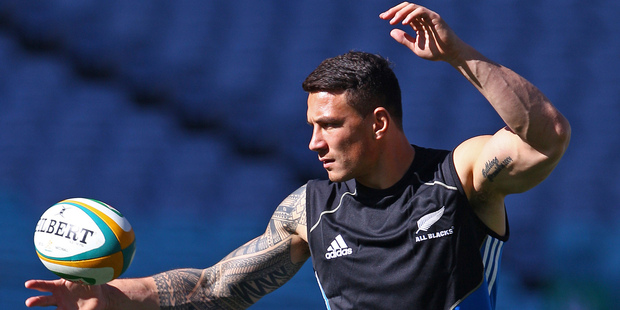 All Black Sonny Bill Williams wants to go out in style - a Twitter post asked his followers how he should do his hair before tonight's Bledisloe Cup match.
It was a lesson that leaving a Twitter account open around friends can backfire for the midfielder, who will return to league after a stint playing rugby in Japan.
"Having a massive dilemma! Not sure what way to part my hair? ... help peeps ... #bledisloe," was the message posted to his Twitter account last night.
The tweet was quickly deleted, with the real SBW bemoaning: "man someone's hacked my twitter!!!!".
Williams later identified former Canterbury Bulldogs teammates Willie Tonga and Reni Maitua - who now both play for Parramatta - as the likely culprits.
Wallaby Quade Cooper, left out of the squad for tonight's Bledisloe Cup opener at ANZ Stadium in Sydney, quickly offered some advice.
"@SonnyBWilliams haha straight up rock the down the middle part hah ... allgood g 1-0," he tweeted.
Williams has been picked by Australian media as the danger man ahead of tonight's match.
Australia's foremost defensive guru, John Muggleton, told the Daily Telegraph the only hope was for Wallaby No12 Anthony Fainga'a to be aggressive. "You have to start the game by not letting him in the game. Fainga'a's attitude should be to try and stop him on the spot, and put him on the ground by going low and hard," he said.
Williams will start at second-five and pair with Ma'a Nonu to make up a barnstorming All Black midfield.
It represents his second-to-last chance to make an impression for the All Blacks.