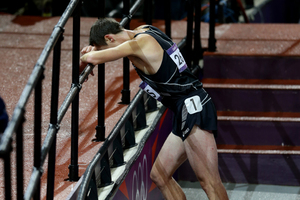 It's a geeky science, watching the social media trends updating themselves as people jump from one hot topic to another, and it has been especially interesting to see the Olympic issue of the day - or even hour - present itself as people latch on and get talking.
Maybe some clever person will pull up all the data and drop it into a witty infographic when the Games are all over, so we can see what mattered most to plugged-in Kiwis.
With luck and common sense, it won't be the latest Stephen Jones drama.
The British sports columnist has been merrily trolling away through the Olympics, and until yesterday not many of the Kiwis and Aussies tweeting their way through the event appeared to have taken the bait.
The number of people stepping on Jones-branded mousetraps must be rising though, since I woke this morning to see he has become a trending topic back in New Zealand.
It's the usual stuff, rebranded as Olympic rants instead of sour rugby, and Antipodeans have been giving as good as they've gotten.
Andy Scott tried reasoning with Jones after he saw the writer saying sorry for a case of mistaken identity.
"I saw him apologise to someone from South Africa he had insulted, thinking he was a Kiwi," he said.
Scott said Jones was "intolerant", "prejudiced", and unwilling to continue the debates he had started.
"He's old school," he said. "You can ignore letters to the editor, but not Twitter replies."
Jones is allegedly blocking some of his critics, so it would appear he is giving ignorance a good go though. The thing is, there isn't really much to distinguish his attitude from that of a 14-year-old kid who gets a kick out of flamebaiting others. You can't reason with that.
"The troll is laughing maniacally under his bridge," tweeted Listener columnist Toby Manhire.
Toby has hit the mark squarely. It's pretty clear that parties on both sides of the floor have indomitable spirits and could argue their way through this, achieving nothing, until the cows come home. One side feeding off the attention, the other bound to perform what our national anthem calls for: the defence of New Zealand.
On and on it goes, never to be resolved. Rather than feed it, just forget it. A flame is nothing without oxygen.
TWEET OF THE DAY
Someone just called our number at random on holiday in the Cook Islands to see what medal Nick Willis got this morning.
@clubsodaweb