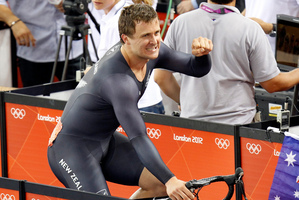 They left it late, but BikeNZ finally made a statement on the track in what turned out to be the most stirring event on the card.
Simon van Velthooven's bronze in the keirin was the first medal won by a NZ sprint cyclist and vindication for a track programme that had shown promise but looked unlikely to deliver.
It couldn't have been more dramatic, either. In a race designed to enhance Sir Chris Hoy's legendary status, van Velthooven and Dutchman Teun Mulder stole the narrative from the six-time gold medallist with an unprecedented deadheat.
Cue scenes of unrestrained joy from his sprint teammates - Eddie Dawkins, Sam Webster and Ethan Mitchell - who turned up to the infield to cheer on their mate.
"They really are brothers," sprint coach Justin Grace said. "They live like brothers all year around and they share in his victory."
The 23-year-old had an agonising five-minute wait until results were confirmed. He and Mulder had lunged at the line together and even though cycling is timed to .001s, the rear wheel of silver medallist Max Levy was perfectly placed between their two front wheels. That made a 100 per cent reliable photo-finish impossible.
So caught in the moment was he, van Velthooven can't remember the delay, but "it was a very long wait for me", sprint coach Grace said.
"It seemed like forever. I remember thinking at one stage: 'Crikey, Chris Hoy has celebrated and I haven't even noticed.' I hadn't stopped looking at the scoreboard waiting for the No 3 to tick over beside Simon's name."
New Zealand's sprint programme is in its infancy. They remain some way behind the all-conquering Brits but are fast catching Australia, Germany and France. Van Velthooven's bronze was validation of that.
"Absolutely," Grace said. "I set some targets for our programme two years ago. We thought they were pretty tough, but we've either met or exceeded them all the way along."
Grace said Rio 2016 had been the target all along for this group of five riders - Matt Archibald did not travel - but that van Velthooven's success and the development of the team sprint would have a spin-off effect.
"I hope it will encourage some young kids to come up and we'll develop some [depth] under them."
When New Zealand claimed five medals at the recent world championships at Melbourne, it provided false hope for a big haul in London. Three were in non-Olympic disciplines - Alison Shanks and Westley Gough in the individual pursuit and van Velthooven in the kilo - and the team sprint bronze was earned only after the relegation of France and Great Britain.
BikeNZ still had high hopes for medals, and in all likelihood bronzes, in the two team pursuits. That happened in the men's, but while the women's pursuit has been making small gains, they set a new PB at London, nations like Canada, the US, Australia and particularly Great Britain have been making large ones.
So van Velthooven's medal was embraced as manna. BikeNZ touted four medals across four disciplines here. Linda Villumsen missing bronze by less than 2s at the time trial was a body blow. With Sarah Walker and Marc Willers to ride in the BMX, they have a chance of reaching that target and keeping happy those who sign the cheques.