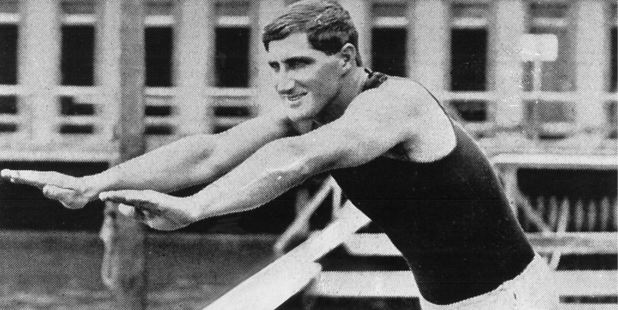 Valerie Adams? Mahe Drysdale? They're just the latest names in a long line of kiwis to take the podium at the Olympics.
To celebrate New Zealand winning its 100th Olympic medal today, here's a look back at five of our less known Olympians:
Malcolm Champion: Gold, 1912
Born on Norfolk Island, descended from Bounty mutineers, Champion was the first New Zealander to win a gold, as part of the Australasian team at the 1912 Stockholm Games. A brilliant swimmer, he became the custodian of Auckland's Tepid Baths in later years and used to commute to and from work from his house on the North Shore by swimming across the Waitemata Harbour.
Harry Kerr: Bronze, 1908
The first New Zealander to win a medal was Harry Kerr, the bronze medallist in 3500m walk in 1908 at London.
He was so fit, even into his 40s, that he won NZ national champs walking at age 46, a feat that the New Zealand Herald called "little short of marvellous". He once built his own walking track around his house.
Marise Chamberlain: Bronze, 1964
Marise is the first and, so far, only New Zealand woman to win an Olympic medal on the track, although Lorraine Moller won a medal in the marathon. A blistering middle distance runner, she was part of an extraordinary final at Tokyo in 1964 in the 800m race in which the top five runners all beat the Olympic record.
Darcy Clarence Hadfield: Bronze, 1920
Darcy Clarence Hadfield was the bronze medallist at the Antwerp 1920 Olympics, winning New Zealand's first Olympic rowing medal. He served and was injured at Passchendaele during World War 1 but recovered to be a New Zealand champion on the water.
Norman Read: Gold, 1956
A long distance walker, Norman Read won the 50 kilometre walk at the Melbourne 1956 Games in a race so tough that a quarter of the competitors did not finish. He was voted New Zealand's Sportsman of the Year in 1956 and helped to popularise the sport here.
Here's a look back at New Zealand's top 20 Olympic Moments as chosen by Herald writers: