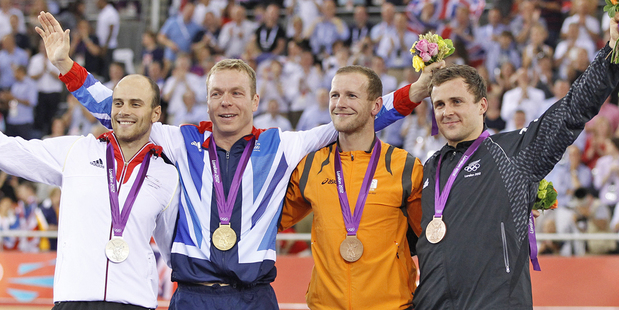 In his teens he would have dreamed of this scenario while riding the long, flat roads of the Manawatu Plains: head down, flat out, charging for the line in a race with the greatest sprinters in the world.
Nowhere in his imaginary races would Simon van Velthooven have dreamed up a finish this close. The 23-year-old won bronze in the keirin last night after an agonising five-minute delay as the commissaires tried to separate him from the Netherlands' Teun Mulder. In the end they gave them both bronze.
Sir Chris Hoy won his sixth gold in an emotional night that saw the retiring track queen Victoria Pendleton beaten into silver by Australia's Anna Meares.
Max Levy finished second in the keirin.
Van Velthooven was possibly the first athlete at these Games to do the devil's horn sign on the podium and, after rapturous embraces with his sprint teammates - Eddie Dawkins, Ethan Mitchell and Sam Webster - he dedicated his medal to New Zealand.
"This is the nation's medal," he said. "It's for everyone that's looked after me, billeted me and fed me. It's just a huge moment in BikeNZ, in track cycling and in our [sprint] team. I'm lost for words."
It was New Zealand's ninth medal of the games and the second bronze at the velodrome after the men's team pursuit.
"The medal has numbed all the hard work of the past couple of years and the work all my teammates have put in.
"I backed myself because that lunge for the line was huge; the whole nation was pushing me in that lunge."
Van Velthooven knew it was going to be close. Sir Chris Hoy and Max Levy had gapped them slightly, but he could see Mulder underneath him. Ties are virtually unheard of in cycling since they've gone to measuring to one-thousandths of seconds, but Levy's trailing rear wheel was between front wheels of van Velthooven and Mulder and made it impossible to split them.
"I'm glad the commissaires handed out two medals because I would have hated to get fourth."
Van Velthooven qualified for the semifinals by cruising on the wheel of Sir Chris Hoy. He drew the toughest semifinal and found himself in bit of a pickle with a lap to go as he lost the wheel of the strongest rider, German Max Levy and had to reassess at the back of the pack.
That forced him to go the long way around, which he did in some style.