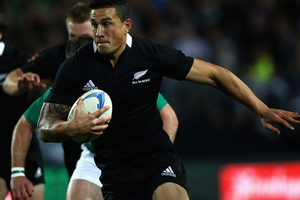 All Blacks' coach Steve Hansen thinks Sonny Bill Williams will return to New Zealand rugby and the All Blacks.
Williams will play two more tests - once the paperwork is completed, according to Hansen today - before departing for the Panasonic club in Japan and league in Australia.
Hansen, who approached Williams about remaining for the opening two tests of the Rugby Championship against the Wallabies following Conrad Smith's eye injury, praised the controversial former league player for his form, attitude to the black jersey and willingness to embrace new challenges.
"He's a guy who really cherishes his time in the All Black jersey," Hansen said of the player who will leave as a Super Rugby title winner following his exploits with the Chiefs this season. "He's different when you see him as a sportsperson. He's done things that are different and sometimes in New Zealand we don't like people that are a little different.
"It doesn't mean to say he doesn't care about his country. From our point of view we know he does and when I spoke to him about the opportunity he couldn't answer quick enough with a 'yes', he'd love to. He loves challenges and he hasn't played against Australia. His form even last night [in the Super Rugby final against the Sharks in Hamilton] - he was dangerous every time he carried the ball, defensively he was outstanding - he's a world class player now.
"The New Zealand public are pretty good at recognising someone who's doing the job and he's done that. One or two are a bit anti and think he's chasing the money but he's a professional sportsperson. You only get a very short term in your playing career to make money ... he's entitled to do what he's doing. It's not his fault that he's pretty good at boxing and people want to watch him do that. It's not his fault he's good at league and it's not his fault that people want to put a contract in front of him," Hansen said.
"I'd be confident enough to say that I don't think it's the last time he will play for the All Blacks, either. I think he will come back. I think he's really enjoyed his time playing rugby, I think he's certainly really enjoyed playing for the Chiefs. That atmosphere and environment there has been great for him, but there are things he's doing in his life and we're supportive of that."
- APNZ