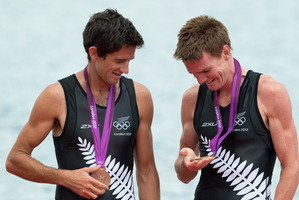 Storm Uru and Peter Taylor narrowly missed out on giving the Kiwi rowing team one last golden glow after a bizarre men's lightweight double sculls finals last night.
The Kiwi pair claimed bronze after the race was restarted due to a broken seat in the boat of their British rivals.
The Danish pair won gold when the race was eventually finished.
An objection at the end of the race was quickly dismissed by race officials.
It took New Zealand's medal haul at the rowing regatta at Eton Dorney to three golds and two bronzes.
Storm, from Southland, and Auckland's Peter Taylor had plenty of support from family members in the stands. Speaking minutes after the race, Taylor's dad Trevor, said he was delighted to see his boy grab bronze.
"I can't believe they got a medal. They gave it everything. I'm just so pleased that all the years and years of hard work has paid off."
He said the team would have been prepared for a restart.
"Having to start the race again wouldn't have affected the way the boys' performed because they trained for that. It happens occasionally in races.
"They way they came through at the end was fantastic. I'm looking forward to celebrating with them. I know they'll want to go out for a big meal after expending all that energy and that's what we will be doing tonight. I couldn't be more proud."
Uru is Southland's second medallist of the Games after Nathan Cohen claimed gold in the double scull race.
Emma Twigg finished fourth in her single scull final.