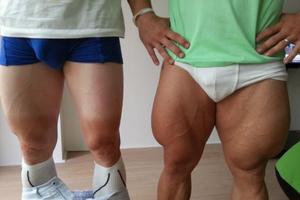 Olympic athletes are sometimes described as freaks of nature.
Now Kiwi cyclist Greg Henderson has the photo to back that up.
The New Zealander pitted German cyclists Robert Forstemann and Andre Greipel against each other in a "quad off" - to determine who has the thickest quadriceps.
Henderson posted the verdict on Twitter.
"You thought Greipel has a big set of legs. There was a quad off in the German camp today. Greipel lost," he wrote.
Forstemann, 26, whose nicknames include "Mr Thigh" according to the London2012 website, is competing in men's cross-country and men's sprint.
Henderson and Greipel's Olympics both ended in disappointment, after Henderson pulled out of the road race with an upset stomach and Greipel finished 27th.