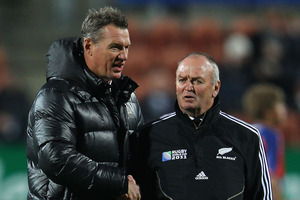 Graham Henry is likely to be a regular presence at the Blues next season, with the former All Black coach expected to play a major role in guiding and mentoring John Kirwan.
Henry has a floating contract with the New Zealand Rugby Union where he's available to advise and help all professional coaches. While he'll continue to be available to other coaches, he's expected to focus much of his energy on ensuring the newly appointed Kirwan is heavily supported.
Kirwan, despite having coached international teams, has not had charge of a club or provincial side. The challenges of preparing and growing a team to play in a six-month competition are different from managing an international side that plays sporadically.
The Blues also have a variety of wider issues that need to be fixed - such as player identification and progression pathways. Henry's days of being on the training ground, hands-on with players and devising game plans are behind him but he is driven by the goal of coaching coaches.
His experience in managing pressure, developing players, selecting teams and planning longer term could be an invaluable resource for Kirwan. There is a sense the Blues have been drifting for some time, that the overall vision was unclear and the coaching team were not always in sync with the executive team. Henry being more actively involved and challenging the coaching group is likely to at least ensure greater consistency of selection and an adherence to the wider strategies to improve the retention and growth of key players.
The make-up of the wider coaching team is a work in progress but Kirwan has said he will have responsibility for attack and would like specialist backs and forwards coaches, a skills coach and a strong manager - a structure largely similar to the one Henry implemented with the All Blacks between 2004 and 2011.
Former All Black skills specialist Mick Byrne, who worked with Kirwan in Japan, is favoured to take up one of the roles. The Blues will have to dig deep financially to fund the bigger management team - but it is an expense they will meet after lagging far behind the staffing levels of other teams.
The New Zealand Rugby Union will also welcome the greater investment, as they have shown in recent seasons that they want to help rookie Super Rugby coaches settle. When Jamie Joseph took over the Highlanders in 2011, All Black assistant Steve Hansen was to have been seconded in an advisory role. Dave Rennie benefited by former All Black assistant Wayne Smith's appointment as technical director.
The national body wants head coaches to be in charge, to take control of their respective teams, but is conscious that this process can be helped if a senior figure is available to offer advice and support without being overbearing or taking over.
Fixing the Blues and helping rugby build a bigger presence in Auckland are strategic goals for the NZRU - another reason they are keen for Henry to be more involved with his former franchise.