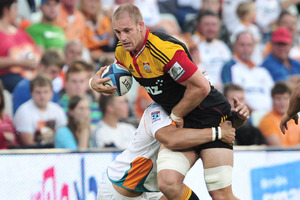 The Chiefs are working through the unknown.
Once they ditched the disappointment and aftermath of their controversial loss to the Hurricanes, they resumed training on most areas of their game but without a specific plan for their Super 15 semifinal opponents.
That side won't be known until late tomorrow night.
It has left the Chiefs in a holding pattern about their tactics, but it's given them plenty of time to sort out their set-piece, some defence and breakdown penalty concessions which haven't been as sharp as they wanted in recent games.
Much of co-ordinating the players' input lies with Craig Clarke, the 28-year-old captain who answers to the nickname Weka, which evolved during his university days in Christchurch.
"Most of what we're on about is what we'd like to do, what's worked for us and why we wavered a bit from what we'd done in the last month," he said.
"In our review there was a little bit of grumpiness about. We were down in the dumps about losing to the Canes and we had to address that and deal with it and say there's only one way to go now and we have two weeks to prepare for that massive game.
"Once that was done the mindset has been good, the trainings have been fine."
There was a renewed edge about the Chiefs' work, but they were also conscious they had to build steadily to a peak for the end of next week.
Assistant coach Tom Coventry is overseeing much of the forwards' work, where he's been assessing the players' quality all season. Clarke has been a great foil with his calm nature and thoughtful influence, especially on Brodie Retallick, who was named player of the year at this week's team function.
"Craig works in a calm, professional manner. He's got the best out of Brodie and that's been good for Craig too. He's experienced and thinks hard about his week's work.
"He's very good at listening, is very analytical and happy to let others go before he sums things up.
"He's responsible for our lineout work, he constantly tinkers with it and is the Victor Matfield of our side as far as our structures go. He's very influential in that area and his own lineout ability has never been in question."
Clarke has grown into the captaincy. He led Gisborne Boys' High then had a lull until he captained Taranaki and moved into other leadership groups. It's been an escalating role in the last few seasons.
Players, he said, didn't need too much of a traditional rark up - that and motivational speeches were best left to the coaching staff.
He was more concerned that the attitude in the side was spot on and they had a real grasp of the game plan.
"If we nail those things we don't need big inspirational speeches," he said.
Clarke was born in Masterton and his extended family is from the Wairarapa, where his father played as a lock for the province in the 1970s.
He made the 1st XV in the fifth form as a "skinny white boy" before migrating south to study geology as he undertook a Bachelor of Science degree.
"I'd always enjoyed something outdoors and it was in the science field and they fitted together," he said. "I did a few geography papers as well and finished it extramurally in Taranaki."
Geology still interests him, especially when he gets back close to the oil and gas fields in Taranaki, but he and his fiancee have farming backgrounds and an inclination to return to the land once the rugby is done.
Clarke still has a year to run on his Chiefs contract and wants to see how long he can stick at the top.
"I love it. I still have goals I want to achieve in New Zealand rugby and certainly want to do everything I can to achieve those, and then maybe I might play overseas," he said.
Clarke laughs as he assesses the psychology and make-up of his squad
"We're a pretty good spread, we've got everything covered that's for sure." They were working a lot harder than previous seasons but were trying to tie that into the individuality the Chiefs had always had.
"We're not trying to hide that, so guys can still be themselves but have to work really hard within the team. That's the basis of it."
They had shown that resolve after props Ben Afeaki and Toby Smith were seriously injured and their replacements stepped up and set the tone for the campaign.
Clarke had been gratified by his own form and his goal to be more consistent.
"It's tough trying to keep up with Brodie, though. I've made a bit more impact with my defence work in the tackle this year and tried to be a bit more dominant in that area," he said.
The Chiefs had worked on mixing old-school rugby values and new ideas from their coaching crew.
"We have free rein in our forwards to keep on instead of just going a few phases and releasing the ball. That's been great for us, it's a comfortable team to lead and our core group with Aaron Cruden, Tanerau Latimer, Mo Schwalger, Richard Kahui and Liam Messam is very experienced."
Clarke was too temperate to trumpet his own input but Coventry said the captain's play had lifted with the team.
"He's one of the side's better tacklers, his efforts to the breakdown are strong, he's very fit and quicker than most expected. He advocates everyone sharing the work and he led that ethic on the field."