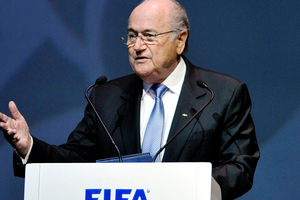 Fifa president Sepp Blatter has voiced his suspicions about the infamous abstention by New Zealand's Charlie Dempsey during voting to select the hosts of the 2006 World Cup.
As chief of Oceania football, Dempsey declined to take part in the final round of the voting process in 2000, effectively handing Germany hosting rights for the tournament.
The Scottish-born Dempsey, who died four years ago aged 87, had voted for England in the first two rounds but was under instruction to back the South African bid once England were eliminated from contention.
Instead, he abstained and left the vote at 12-11 in favour of Germany. Had the vote been tied, Blatter, who had previously expressed his desire for football's biggest tournament to be held on the African continent, would have held the deciding vote.
And now, with Fifa embroiled in yet another bribery scandal, Blatter has questioned Dempsey's indecision.
In an interview with Swiss newspaper SonntagsBlick, Blatter denied allegations the 2018 and 2022 World Cups had been bought by Qatar and Russia, respectively, and instead turned his attentions to the 2006 tournament.
"I remember the award of the World Cup for 2006 when, at the last minute, someone left the room and so, instead of the voting being split 10-10, it was 10-9 in favour of Germany," Blatter said, incorrectly recalling the voting tally.
"I'm glad I didn't have to make a casting vote but, well, that person suddenly got up and left. Maybe I was too good natured and naive."
When asked outright if he was suggesting the 2006 World Cup had been bought, Blatter said no but it was "just something that I noticed".
German football secretary-general Helmut Sandrock defended his organisation and, by extension, Dempsey, fixing the spotlight on Fifa itself.
Dempsey always insisted there was nothing nefarious in his abstention, citing "personal reasons" and "intolerable pressure" in his decision to cast no vote.
- APNZ