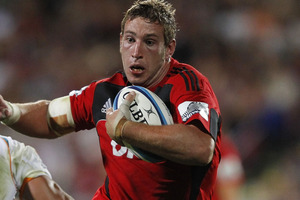 The last few years feel like a blur for Luke Romano but one thing is clear - if the Crusaders beat the Force in Christchurch tomorrow he'll be back in the Super 15 playoffs.
Playing club rugby three years ago, Romano's ascent since has been steady - ITM Cup for Canterbury in 2010, Super Rugby the following year and an international debut last month.
It is doubtful too many members of Christchurch Boys' High School's third XV have gone on to play for the All Blacks, but that's just what Romano did in the third test romp against Ireland in June.
"It's a bit surreal, really, to have played a test for the All Blacks," he said. "I had no indication that I was going to get selected in that June test series, so when that came around it was a bit of a shock."
While Romano's form in the first half of the Super 15 warranted his selection, his shock was understandable. After a promising cricket career was cut short by a back injury, the builder kept himself busy in club rugby for High School Old Boys with little idea of what was to follow.
"After grinding away at club rugby for four or five years, I slowly made that progress through and, once I got my foot in the door, I didn't look back. I just kept plugging away and working hard and training hard.
"And the rewards came with the Crusaders selection last year. I had a few opportunities with Sammy (Whitelock) and [Brad Thorn] getting injured - I was able to start a few games and then cemented myself within the 22.
"All the hard work was paying off."
That hard work has only intensified this year as the Crusaders mixed and matched their three locks throughout the competition. With the presence of Whitelock and Tom Donnelly, Romano knows any prolonged slump in form could see him back on the sidelines.
"This year, with a bit of rotation going on between the three locks, I'm really putting my best foot forward when I've had the opportunity to start a game."
And it must have been working, judging by the phone call he received from the All Blacks' selectors when they named their squad for the Ireland series.
"Playing a game of international footy, the selectors and coaches wouldn't have picked you if they didn't think you were up to it," Romano said. "Coming back to Super Rugby, you get that confidence to keep doing what you were doing prior to being selected.
"It was obviously a very good experience and I was pretty excited to get among the All Blacks' framework and see how it all goes. Hopefully there's many more tests to come."
Despite the rapid rise, Romano has become firmly entrenched in the Crusaders' ideology and he knows, despite the lowly status of the Western Force, anything less than a complete performance in Christchurch could see the season end.
With the Bulls, Sharks and Reds breathing down their necks and all facing winnable games of their own, the Crusaders must hold serve.
"We just want to go out there and keep playing the brand of rugby we've been playing," Romano said. "You can't take any team in this competition lightly. The Rebels tipped us up when they weren't meant to beat us.
"If we start looking ahead we possibly could get the wool pulled over our eyes and miss out on the top six altogether. The boys know that. We've still got a job to do on Saturday night to cement that fourth spot."
- APNZ